Yanni Gourde Thrills Fans with OT Winner to Power Kraken Past Stars in Game 1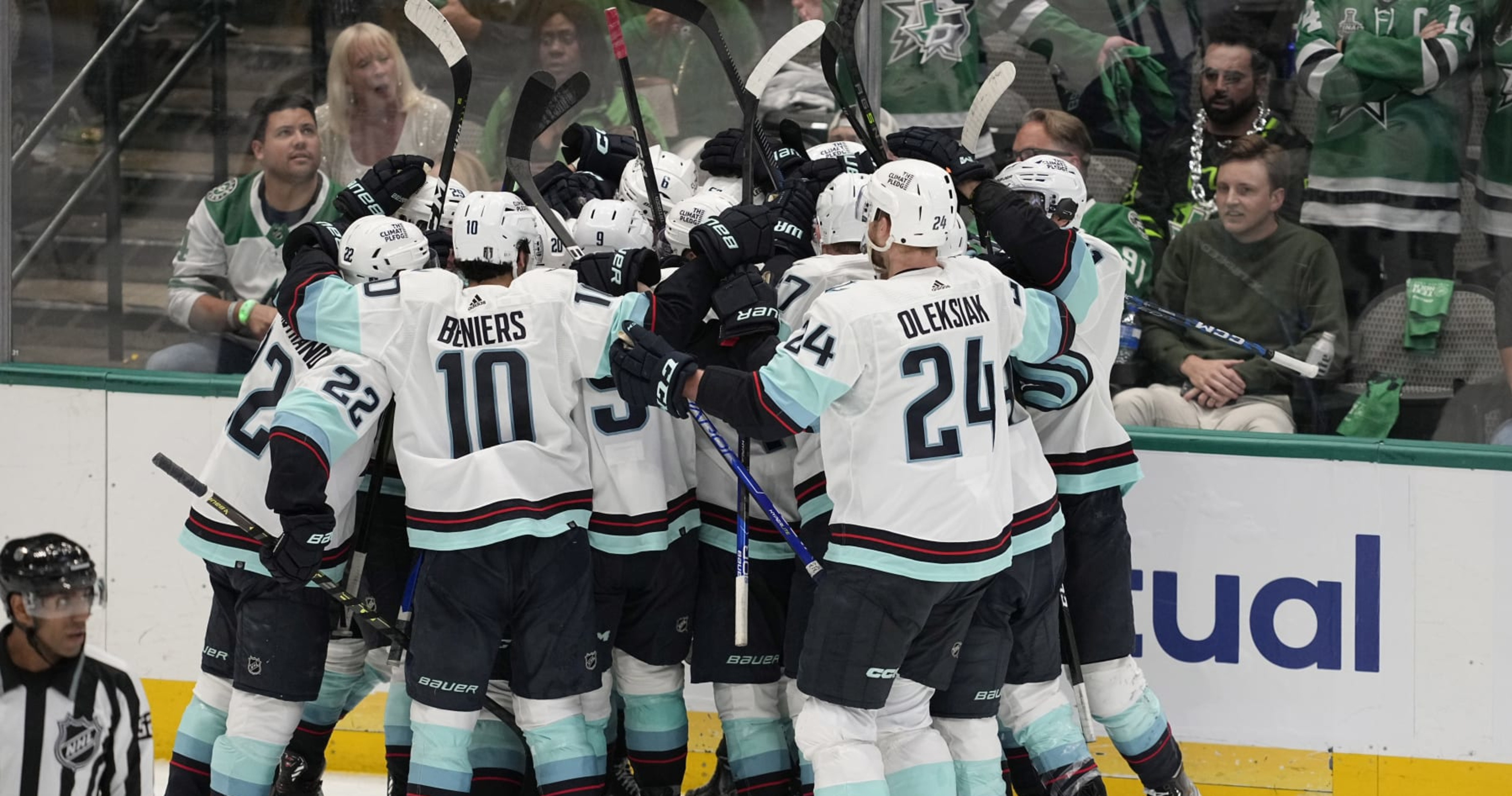 Timothy Rapp
@@TRappaRT
Featured Columnist IV
May 3, 2023

AP Photo/Tony Gutierrez
Yanni Gourde crashed Joe Pavelski's "welcome back" party.
The Seattle Kraken center scored the overtime winner in Game 1 of the Western Conference second-round series against the Dallas Stars, spoiling Pavelski's four-goal outburst.
How's this for heroics?
Five different Kraken players scored on Tuesday night, with Jaden Schwartz, Justin Schultz, Oliver Bjorkstrand and Jordan Eberle joining Gourde. Philipp Grubauer made 31 saves on 35 attempts.
The Kraken came out firing, putting up four goals in the first period alone before the Stars staged a comeback and forced overtime.
Pavelski was astonishing for the Stars, meanwhile, becoming the oldest player in NHL history to score four times in a playoff game:
ESPN @espn

PLAYOFF HISTORY‼️

Joe Pavelski is the oldest player in Stanley Cup playoff history with a 4️⃣-goal game 😱 pic.twitter.com/XQyr7kPJtR
ESPN Stats & Info @ESPNStatsInfo

Joe Pavelski is the oldest player with a 4-goal game in Stanley Cup Playoff history.

The previous oldest was Maurice "Rocket" Richard when he was 35 years, 245 days old for the Canadiens in Game 1 of the 1957 Stanley Cup Final vs the Bruins. pic.twitter.com/uxUUxsB8GH
Considering Pavelski had missed the team's previous five games with a concussion suffered in Game 1 of the first round against the Minnesota Wild, it was an impressive return to action.
And the Stars needed every last one of his goals to stay in the game.
Elliotte Friedman @FriedgeHNIC

2019: Pavelski was injured vs Vegas. Returned 15 days later with 1 goal and 1 assist in Game 7 vs Colorado.
2023: injured vs Minnesota. Returns 15 days later with 4 goals (and counting?) vs Seattle.
The sequel even better than the original.
BucciOT.Com @Buccigross

Joe Pavelski making the Hall of Fame in his late 30's…
Paul Bissonnette @BizNasty2point0

Zero rust for Joe Pavelski. Immediate impact. Great pace to this one.
Joseph Hoyt @JoeJHoyt

This is Joe Pavelski's first career four-goal game. At age 38. In the playoffs. After not playing for 15 days due to a concussion.

Unreal.
But ultimately this was Gourde's night, and NHL Twitter gave him his flowers:
Greg Wyshynski @wyshynski

Yanni Gourde, man. Great win for the Kraken after the Stars roared back in Game 1.
Shayna @hayyyshayyy

Yanni Gourde with the winner over the Dallas Pavelskis tonight
Aaron Levine @AaronLevine_

Right before the clock literally struck midnight in Dallas, the Cinderella story continues with Yanni Gourde scoring the game winner for #SeaKraken.
Seahawks fan 4 life Njigba Szn @seahawksfan2314

Yanni Gourde Himothy!!!!!!
Tim Booth @ByTimBooth

Yanni Gourde – perpetual pest. Helluva win.
Laura @SiggysACLL

Oh Wow – we were right Gourde was next!! Apparently no one else was going to score until him! Next game is Matty!
It was a wild ride of a night for Stars goalie Jake Oettinger, meanwhile. He looked poised to potentially be benched after the first period but was brilliant the rest of the way, ultimately saving 39 attempts.
It was the five he didn't stop that cost his team Game 1, cost Pavelski central billing and at least temporarily cost his team home-ice advantage.
Game 2 will take place in Dallas on Thursday at 9:30 p.m. ET on TNT.
Yanni Gourde Thrills Fans with OT Winner to Power Kraken Past Stars in Game 1
Reviewed by
RP
on
May 04, 2023
Rating: