Rumors Point to Google Biting Off Apple's AirTag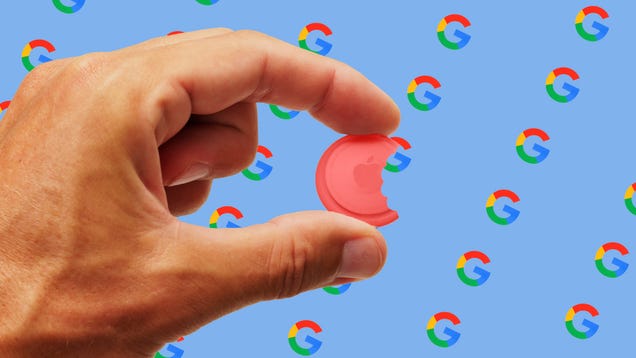 The pre-Google I/O rumor mill is turning faster on the lead up to May 10, and there's now more than a few leaks pointing to Google finally taking its own dive into AirTag territory. Still, it remains unclear whether Google could have its own Bluetooth tracker reader for it's big event, or even on the docket for 2023.
How To Prep Your iPhone or iPad Before Selling
9to5Google reported Thursday based on leaked company documentation that Android's long-rumored "Finder Network" could be coming to a head. Those documents reportedly revealed that at least three major Bluetooth tracker makers are working to make their devices compatible with an Android-based Find My clone.
The tag makers referenced included Pebblebee, eufy, and Chipolo. Those same companies were referenced by Apple supporting the new proposed standards to end Bluetooth tracker stalking. Both Apple and Google proposed specifications for any new device that would require a low-energy Bluetooth signal for devices to detect unwanted AirTags or other trackers. All those devices already support Apple's Find My app, though Google has yet to come out with any kind of competing application or tracking device.
Although, Google has been working on this rumored Finder Network for nearly two years. This has led to a number of fal, though honestly hilarious hoaxes, like a fake ad for the "G-Spot" created by an Italian graphic designer and proliferated on Reddit.
In January, rumor monger Kuba Wojciechowski reported that Google's smart tracker was codenamed "grogu," a reference to fan favorite baby Yoda from The Mandalorian. The leaker said that the product was being developed by the Nest team, and included an onboard speaker and support for a low-energy Bluetooth signal. This reference to a Bluetooth tracker was supported by a "Locator Tag" showing up in Google's Fast Pair dev console, according to freelance tech writer Mishaal Rahman.
According to Wojciechowski's leak, this Nest-based device could support ultra-wideband much like its Apple counterpart. Both the Pixel 6 Pro and 7 Pro phones support UWB, though the regular 7 and Pixel Watch still only support NFC for close-proximity data sharing. That's not to say the less capable Google devices couldn't use a potential Nest tracker, but users would likely need a more powerful Android device to make full use of any potential tracker's features.
Now, none of these rumors explicitly mean we'll see a new Google tracker at Google I/O 2023 on May 10. The 9to5Google rumor did not mention when those companies claimed they started working on enabling a Google Finder Network. There have been little to no news about any supposed Nest-based tracker in the last few months. Either Google's keeping a tight lid on product reveals (the recent Google Pixel Fold leaks would point to the contrary, as the company's just given up and has properly announced the Pixel Fold early) or the tech is simply still not ready for public release.
Google is a little more hesitant to release controversial technology than other companies. Just look at how long it kept its AI systems under wraps until the threat of competition from Microsoft reportedly put the company into a so-called "code red." Though if Google's going to go through with a tracker, it might as well be now, since it finally has some kind of PR answer to the controversy and lawsuits surrounding Bluetooth trackers being used for stalking.
Google has been trying to catch up to Apple in several other ways. For instance, the company just released a beta for a PC Nearby Share feature that's akin to Apple's AirDrop.
---
Want more of Gizmodo's consumer electronics picks? Check out our guides to the best phones, best laptops, best cameras, best televisions, best printers, and best tablets. And if you want to learn about the next big thing, see our guide to everything we know about the iPhone 15.
Rumors Point to Google Biting Off Apple's AirTag
Reviewed by
RP
on
May 05, 2023
Rating: