Report: Jeffrey Epstein, Woody Allen Made Plans to Socialize Every Month from 2014 to 2015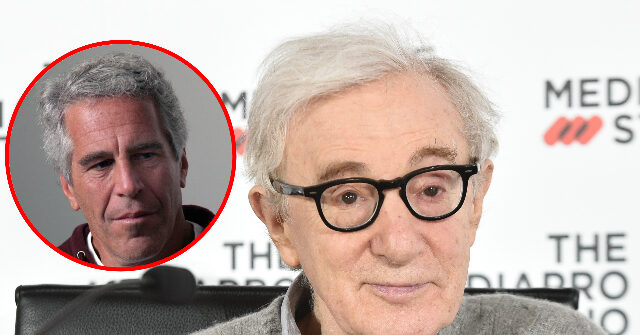 Jeffrey Epstein and Woody Allen reportedly made plans to socialize together every month from 2014 to 2015 — a time when Epstein was already a registered sex offender who had been sentenced to jail for soliciting a minor for sex.
The Wall Street Journal reported this week on a trove of documents belonging to the late Jeffrey Epstein including diaries and personal schedules showing the disgraced financier was also friendly with Lawrence Summers, who served as Treasury Secretary under former President Bill Clinton, and later was president of Harvard University.
Epstein also hung out with billionaire LinkedIn founder Reid Hoffman, who has been a major donor to President Joe Biden.
Woody Allen's spokesperson told the Journal the filmmaker was always accompanied by his wife, Soon-Yi Previn, when socializing with Epstein.
More names in Jeffrey Epstein's private documents: Dinner plans with former Treasury Secretary Larry Summers, an island visit by LinkedIn co-founder Reid Hoffman, film screenings with Woody Allen. https://t.co/vfyKG7kksY

— The Wall Street Journal (@WSJ) May 3, 2023
"Woody and Soon-Yi lived in the same neighborhood as Epstein and were frequently invited to dinner parties at his townhouse," a spokesperson for the couple told the newspaper. "There were always other guests at those gatherings."
The spokesperson said Epstein and Allen "never had a business meeting."
Epstein's documents reportedly show that in late 2012, they planned to view Allen's new film together. An assistant to Allen sent one of Epstein's assistants a note: "Woody was wondering if Jeffrey would be interested in watching his new film either today or tomorrow?"
Epstein said he was available.
In 2013, they reportedly scheduled multiple visits to artist Jeff Koons' studio; and in 2017, they planned to attend a Sotheby's auction together.
Epstein's staff sometimes ordered Allen flourless chocolate cakes and bottles of Beck's beer, the newspaper reported.
In 2019, Epstein was found dead in his New York prison cell as he was awaiting trial on sex trafficking charges.
Earlier this year, a police report revealed that former President Clinton's special advisor Mark Middleton — who reportedly signed Jeffrey Epstein into the White House seven out of the 17 times he visited — was found last year hung from a tree and shot dead in the chest in Perryville, Arkansas.
Follow David Ng on Twitter @HeyItsDavidNg. Have a tip? Contact me at dng@breitbart.com
Report: Jeffrey Epstein, Woody Allen Made Plans to Socialize Every Month from 2014 to 2015
Reviewed by
RP
on
May 05, 2023
Rating: