J.Lo takes charge in Netflix's gruesome action-thriller "The Mother"
The high-concept action thriller "The Mother" is ludicrous — but in a good-bad way. This stupefying film defies logic as it grafts grisly violence with a maternal bonding plot. It is like a being hugged by mom, who has wrapped herself in barbed wire. 
The nameless title character, aka The Mother (Jennifer Lopez) is introduced in an FBI safe house in Indiana. She is being grilled by agents about her involvement in dealing arms to Adrian (Joseph Fiennes) and Hector (Gael García Bernal), her former lovers. She refuses to reveal much, but she does warn the feds that someone is coming for her. And yet, these men don't listen to "mom," who really does know best. Almost all the feds quickly end up dead, save Cruise (Omari Hardwick), whose wound she staunches while also managing to take out a bunch of bad guys. The Mother also finds time to construct a bomb of sorts before it is revealed she is very pregnant. Cue opening credits.
Director Niki Caro (a long way from "Whale Rider"), working from a script by Andrea Berloff, Peter Craig, and Misha Green, delivers two, two, two movies in one as the first half is all relentless action and the second part the not-quite-gooey emotional stuff. The film's split personality is a problem because it wants to be original, and it ends up being overly familiar. 
After the safe house incident, The Mother delivers her baby, who will be named Zoe. Mom is also forced to terminate her parental rights so as not to put her daughter's life in jeopardy. It's a heartbreaking decision, but The Mother gets Cruise to promise to contact her with updates and the first sign of any trouble.
Twelve years later, that trouble comes when Zoe (Lucy Paez) is then kidnapped by Tarantula (Jesse Garcia), one of Hector's henchmen. It's a nifty shootout sequence, but a subsequent scene in a parking lot, where The Mother punches through the bottom of a decrepit truck's floorboards to gain access to the vehicle to escape just strains credibility. That said, The Mother's vow to "kill every last one" of the men who took Zoe is very, very real.
"The Mother" is best when Lopez is in action. There is an exhilarating chase scene through the streets of Cuba, that hits all the expected marks — children, street vendors, a wedding party, etc. The Mother is in hot pursuit of Tarantula, a baddie who is seen knocking over children and nuns to get away. Even when she hops on a motorcycle and gets hit by a car, The Mother bashes the driver with her helmet and takes off in his vehicle — such is her determination to find her daughter. It's funny, shocking and thrilling all at once, but it is also completely and utterly ridiculous and cliched. 
Beyond the chase scene, the fight and torture episodes in Cuba are pretty graphic. One character gets a knife in his back, and it's quite painful to watch. The Mother has some pretty ruthless interrogation techniques, which include waterboarding. And two characters succumb to gruesome deaths that may have viewers gasping and questioning why this film is being pitched for Mother's Day. 
Eventually things slow down, providing a bit of backstory with The Mother and her relationships with Adrian and Hector. The narrative also gets The Mother reunited with Zoe, who does not seem very pleased by this development, in part because they hole up in a remote cabin in Alaska with no cell phones.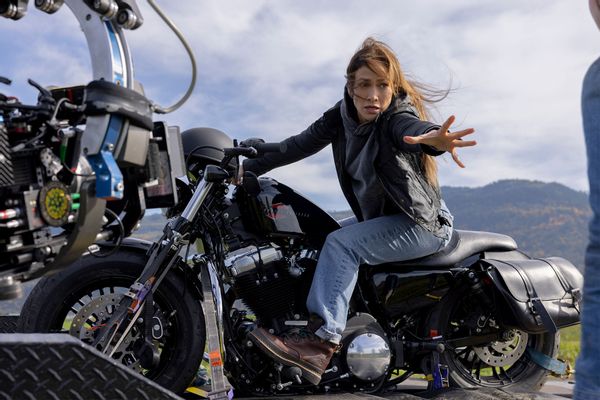 Jennifer Lopez in "The Mother" (Netflix)
"The Mother" actually grinds to a halt during the scenes of Zoe acting petulant as her birth mother teaches her survival skills, which include shooting and driving. (This section of the film echoes two better films, John Cassavetes' "Gloria" with its hitwomen/child caring moments, and "Hanna" with its pre-teen assassin-in-training episodes.) Lopez is in fierce mama bear mode in these scenes, and she is fun to watch being tough, but Paez does not give her much to play against because Zoe is not fully invested in learning to protect herself or bond with this stranger, whose identity is no mystery to her. As such, viewers are forced to wait patiently for the bad guys to come and threaten mother and child so the women can put the skills they honed to use.
The film perks up with a snowmobile action sequence that is shot in a white, wintery landscape. The scenery is quite striking, but the action is mostly routine and lazy, with fake-outs, fisticuffs and a pre-teen in danger. The ending may feature the soundtrack swelling during a big emotional moment, but the payoff does not feel satisfying. 
At least "The Mother" gives J.Lo a juicy role, and she works equally hard in her action scenes as she does with her emotional ones — especially since her character tries hard not to show any feelings. Lopez looks glamorous throughout, sporting a big furry coat in Alaska, a tight dress while dancing in Cuba and even during a flashback where she is doing target practice in the military. Lopez does her best with the subpar material, and it is hard not to wish, as with so many J.Lo starring vehicles, that "The Mother" made better use of her talents. 
---
Want a daily wrap-up of all the news and commentary Salon has to offer? Subscribe to our morning newsletter, Crash Course.
---
The eclectic supporting cast adds to the film's unevenness. Gael García Bernal hams it up in one key scene, whereas Joseph Fiennes is more sleepy than sinister as the evil Adrian. Lucy Paez also seems to lack energy, which is a drawback because Zoe's scenes with The Mother should have some spark so viewers appreciate why this mom will die for her daughter. In contrast, Omari Hardwick exudes charisma, and Jesse Garcia is memorable in his pivotal role.  
As "The Mother" whipsaws the characters from Alaska to Cuba and back, the story struggles to find its groove because the propulsive action is at odds with the more sentimental moments. The film also lacks irony that might have made it campy fun. While parts are greater than the whole, "The Mother" delivers a passable action film. If only it had resisted the mama drama.
"The Mother" is available for streaming on Netflix starting May 12.
J.Lo takes charge in Netflix's gruesome action-thriller "The Mother"
Reviewed by
RP
on
May 13, 2023
Rating: