Base Operations Analyzes Historical Unrest Data to Provide Insights Into Anticipated Violence During Upcoming High-Stakes Elections in Turkey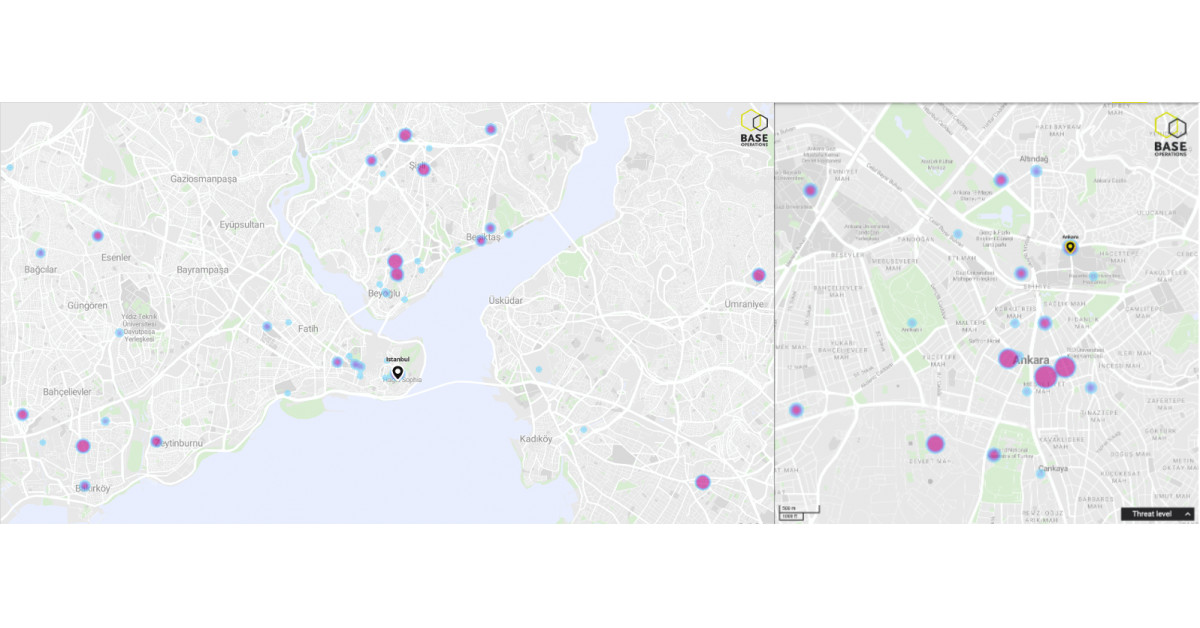 Press Release
•

May 11, 2023 03:00 EDT
Base Operations Insights: Spikes in Mob Violence in Ankara and Istanbul During 2018 and 2019 Elections Indicate Similar Patterns of Violence Should Be Prepared For


WASHINGTON, May 11, 2023 (Newswire.com)
–
 Base Operations, the street-level intelligence company that delivers unparalleled access to global threat data to help organizations enhance their corporate security programs, has compiled a threat assessment for the upcoming Turkish elections on May 14 using historical data to forecast potential violence in the region.
The election in Turkey is being monitored by companies around the world for its geopolitical impact, as well as for potential short-term disruption to businesses. Leading up to the election, Base Operations analyzed Ankara and Istanbul during the 2018 election year to anticipate where violence or unrest could occur.
The 2018 election period saw spikes in politically motivated mob violence for both Ankara and Istanbul. Incidents in both cities were concentrated near election centers and voting facilities leading up to and shortly following the previous election. Spikes in similar incidents occurred during 2019 local elections.
In Istanbuln these incidents were more frequent and more dispersed, taking place in the districts of Zeytinburnu, Esenler, Kâğıthane, Şişli and Ümraniye, and the neighborhoods of Esentepe and Okmeydanı. In the capital city of Ankara, these incidents were concentrated in the district of Çankaya and Keçiören.
Given the patterns of activity in the previous two election periods, it is reasonable to prepare for similar activity leading up to and following the election dates of May 14 and May 28 (if a second voting period is needed). Should extraordinary circumstances occur during or following this election, additional caution should be taken in areas near voting facilities.
Key findings from the Ankara analysis:
Eighty-two percent of all protest activity during this period required intervention by police (103/125 events), up from the six-year average of 62%.
June saw eight (8) events recorded as Mob Violence, all geared towards various political parties. This is a 142% increase from the six-year monthly average of 3.3 events per month.
Districts where these events most commonly occurred:
Çankaya District — often Yuksel Street. Çankaya is home to many government buildings, as well as nearly all foreign embassies to Turkey. 
Keçiören District
Ankara-Konya intercity road in Ankara province
Istanbul
Eighty-nine percent of all protests during this period were peaceful.
While there was a steady increase in protests requiring intervention leading up to the 2018 election, the 12 incidents in the month of June are only 33% higher than the five-year monthly average.
The 14 incidents of Mob Violence recorded during the month of the election reflect a 1,500% increase of the five-year monthly average of one event.
Districts where these events most commonly occurred:
Zeytinburnu
Esenler
Kâğıthane
Şişli
Ümraniye
Neighborhoods of Esentepe
Neighborhoods of Okmeydanı
See complete analysis here: https://medium.com/@matt.fuller_89282/base-operations-insights-19c1468d052b.
Learn more about Base Operations: baseoperations.com.
Source: Base Operations
Base Operations Analyzes Historical Unrest Data to Provide Insights Into Anticipated Violence During Upcoming High-Stakes Elections in Turkey
Reviewed by
RP
on
May 11, 2023
Rating: