Anthony Davis' Dominance Lionized by Twitter in Lakers' Win vs. Steph Curry, Warriors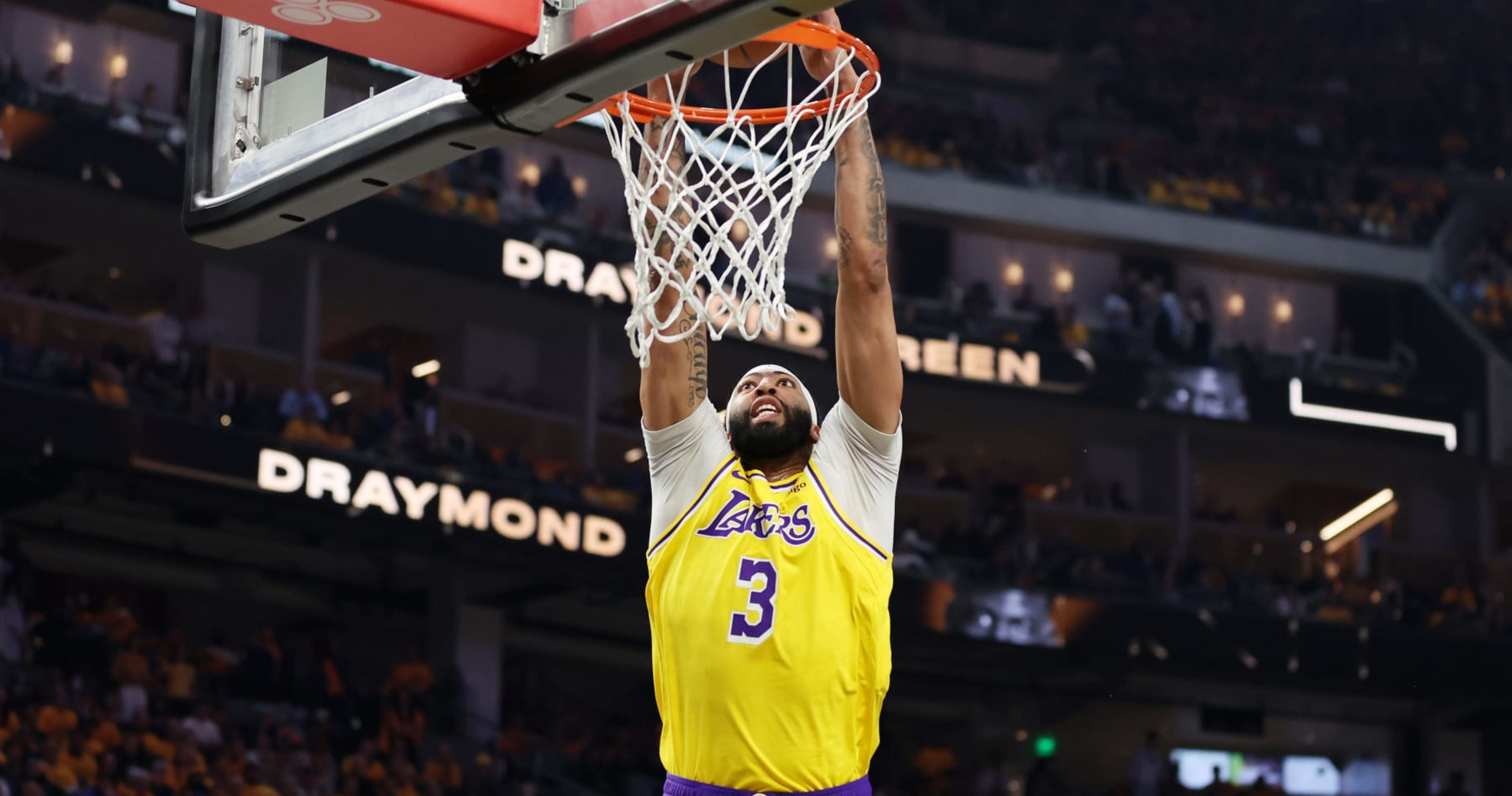 Scott Polacek
@@ScottPolacek
Featured Columnist IV
May 3, 2023

Ezra Shaw/Getty Images
The second-round series between the Golden State Warriors and Los Angeles Lakers may have been advertised as a LeBron James and Stephen Curry showdown, but only one of them has Anthony Davis on his team.
Davis was Shaquille O'Neal-level dominant while leading the Lakers to a 117-112 victory in Tuesday's Game 1 at Chase Center. He finished with 30 points, 23 rebounds, five assists and four blocks in a performance for the ages, and Los Angeles now has home-court advantage as a result.
It seemed as if the visitors were going to cruise to a win behind his showing with a double-digit lead late, but the Warriors exploded for a 14-0 run to tie it in the final two minutes. Yet a D'Angelo Russell basket and monster Davis block on Curry on the ensuing possession put the Lakers up for good as they survived the scare.
It also didn't help Golden State's cause that Jordan Poole forgot he wasn't Curry and tried to drive on James and then launched an ill-advised three-pointer from well beyond the arc on back-to-back possessions when down three in the last minute.
Yet it was Davis who earned Twitter love:
Kevin O'Connor @KevinOConnorNBA

Anthony Davis was by far the best player on the floor in Game 1. Lakers did an outstanding job throughout sagging off non-shooters, Dennis Schroder and especially Jarred Vanderbilt constantly locked in chasing Steph Curry. I'd expect more ball screens by Steph moving forward.…
myles brown @mdotbrown

Anthony Davis became everything I ever wanted him to be tonight
Josh Eberley 🇨🇦 @JoshEberley

This isn't the best supporting cast LeBron has ever had but it's the most he's ever been supported by his cast.
Sam Quinn @SamQuinnCBS

Spot on. It's also, frankly, the first time he's ever been the second-best player on his own team in the playoffs. It helps when Anthony Davis turns into Hakeem Olajuwon. https://t.co/3It0JuYJvT
Vincent Goodwill @VinceGoodwill

Anthony Davis is gonna be exhausted after this. He's contesting threes, stopping shots from going up at the rim. And scoring. 28 and 17. Lakers by 8 before the fourth
playoff karin. 🇦🇲 @KarinAbcarians

Hi. hello.

Anthony Marshon Davis Jr. has 30 points, 21 rebounds, 5 assists and 3 blocks. pic.twitter.com/QfeaDF0JHv
Michael Corvo @michaelcorvoNBA

Anthony Davis and Kevon Looney are putting up rebounding numbers like it's Russell vs. Wilt in '65
John Dickinson @JDJohnDickinson

Anthony Davis is doing to the Warriors what Kings fans thought Domantas Sabonis could/would do to Warriors.

Sliiiiiiiiightly different players though
For all the hype about another James and Curry matchup after they starred in four straight NBA Finals against each other from 2015-18, the secondary options shined right out of the gates.
Davis had a double-double in the first half alone and was unstoppable down low, while Klay Thompson caught fire from deep on the other side. Throw in Poole and Dennis Schröder providing a spark off the bench for their respective teams, and it was far from a singular showdown between two all-time greats.
Kevon Looney has been on the glass all playoffs, but he was too slow to stay in front of a dominant Davis as the Lakers extended their lead to double digits in the third quarter.
It wasn't just him, as Russell glided past defenders even before he hit what proved to be the game-winning shot. Throw in Davis protecting the rim and Jarred Vanderbilt hounding Curry, and the Purple and Gold were in full control.
That is, until they weren't.
The Warriors may have found something they can use later in the series by moving Curry to a ball-handling position and speeding up the pace as they went on their late charge, but Los Angeles' initial cushion and clutch plays in the last two minutes proved to be the difference.
The two teams will return to Chase Center for Game 2 Thursday.
Anthony Davis' Dominance Lionized by Twitter in Lakers' Win vs. Steph Curry, Warriors
Reviewed by
RP
on
May 04, 2023
Rating: