12 Celebrity Couples Who Would Become Perfect Disney Princes and Princesses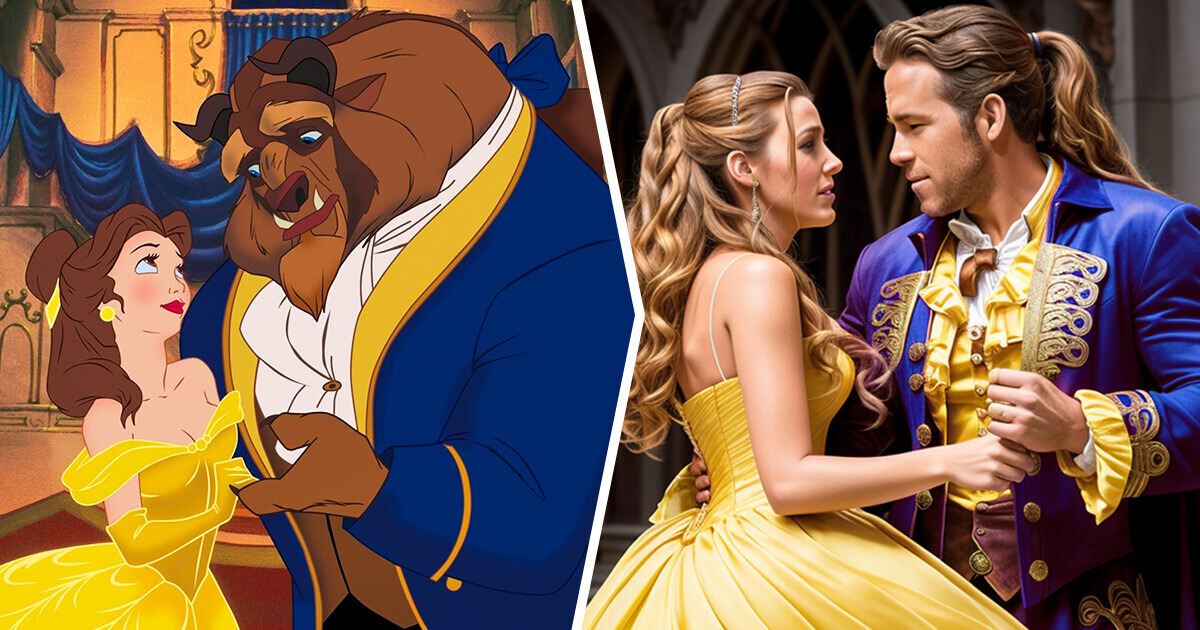 While Hollywood makes live-action remakes of famous animated movies where the choice of actors doesn't always make the audience happy, we decided to conduct our own casting to choose actors who would fit perfectly into some Disney remakes. But we only considered famous couples for the starring roles. Let's see what we got.
Beauty and the Beast
Belle and the Beast are considered one of the best Disney couples. When they meet, they are already mature, and they know their own strengths and weaknesses and what they look for in their potential partner. And they don't try to change each other. Besides, Belle is the first Disney princess who is over 20 years old.
So, we think that Blake Lively and Ryan Reynolds would portray this beautiful couple perfectly.
Tarzan
It doesn't seem quite plausible that a savage who was raised by gorillas and a Victorian lady could become a couple. But the creators of this animated movie thought differently. The audience admires Tarzan and Jane because these characters know that they belong to different worlds and they don't let these differences affect their relationship. On the contrary, they use them to widen their own horizons.
We think that Michael Fassbender and Alicia Vikander would become wonderful Tarzan and Jane if moviemakers decide to make a new Tarzan movie.
Tangled
Rapunzel and Eugene are considered to be one of the most natural and believable Disney couples. Even though the characters did fall in love with each other at first glance, they didn't get carried away by their emotions. Their relationship developed slowly and gradually because each of them would think about their own interests first in the beginning. And they didn't find love and trust until later, after they fully opened up to each other.
We think that the beautiful Rosie Huntington-Whiteley and "bad guy" Jason Statham could easily portray these characters.
The Little Mermaid
Even though this couple is really beautiful, many people believe that Prince Eric is not the best match for Ariel. He was carried away by his own dreams about the girl with a charming voice, and didn't really take Ariel seriously. He even quickly ditched her when Ursula showed up. So the big question is whether Eric is even capable of fully accepting his partner. He didn't even propose to the Little Mermaid until after she regained her voice.
Nevertheless, this couple is still out there. And when thinking about what actors could portray them, we came to the conclusion that Rose Leslie and Kit Harington are the best fit for these roles.
The Princess and the Frog
As for Tiana and Naveen, viewers believed in their love. They especially appreciated Naveen's desire to support the dreams of his beloved. Tiana dreamed of opening her own restaurant, and Naveen did his best to make her dream come true. We are sure this couple will be happy together.
And we think that the ambitious Tiana and the caring Naveen would be best portrayed by Beyoncé and Jay-Z.
Aladdin
Many viewers believe that Aladdin is not the best match for Jasmine, just like Eric for Ariel. And even though Jasmine seems to accept the fact that her beloved was not the person he pretended to be at the beginning of their relationship, viewers do not intend to follow suit. On the other hand, if Aladdin were different, perhaps we wouldn't find this story that fascinating.
As for the real-life people who could portray this passionate couple, we think that Penélope Cruz and Javier Bardem would be the best fit.
Sleeping Beauty
Compared to more recent Disney princes, Phillip lacks depth. The only thing we know about this character is that he's brave enough to challenge Maleficent to save his beloved. We hope that a new movie about this story will show the development of this couple's relationship and reveal the prince's personality.
And we would cast Chris Hemsworth and his wife, Elsa Pataky, to star in this movie.
Hercules
It's quite uncommon for Disney that the female character is older than her beloved. Megara is 28, and Hercules is 18. And the audience is inspired by their relationship. According to them, this is a mature couple who can discuss serious things. But there is still chemistry between them.
We think that the Beckhams would be a perfect fit to portray this couple on the screen. By the way, Victoria is older than David too, though they are only one year apart.
The Hunchback of Notre Dame
Unlike the book's character, Disney's Phoebus lacks racial and social prejudice, and is ready to fight for his love. This means that we can be sure that Esmeralda will be safe and happy with him. In addition, the main characters showed that they can be a great team, and they've overcome many obstacles together.
And we think that Ryan Gosling and Eva Mendes would be great in these roles and really look like the characters to boot.
Snow White and the Seven Dwarfs
Just like in the case of Aurora and Phillip, viewers found it difficult to analyze Snow White and Florian's relationship because the prince's character didn't have enough screen time to reveal his true personality.
This is why it would be really interesting to watch a movie where we can find out how their relationship worked out after the wedding. And we would give the starring roles to Katy Perry and Orlando Bloom.
Pocahontas
Even though Pocahontas and John Smith followed different paths, they managed to reach an understanding thanks to their open-mindedness and lack of prejudice. However, some viewers believe that they are just physically attracted to each other, and don't really have serious feelings.
But we can't read other people's minds, and we think that Matthew McConaughey and Camila Alves would be an excellent choice for Pocahontas and John Smith.
Peter Pan
Peter and Wendy had a touching friendship which could have grown into a romantic relationship if the characters left Neverland together. But as we know, only Wendy refused to remain a child forever. So, we can only hope that moviemakers will decide to change this story in the future.
We also think that Barbara Palvin and Dylan Sprouse would be perfect in the roles of the grown-up main characters.
Bright Side/Films/12 Celebrity Couples Who Would Become Perfect Disney Princes and Princesses
12 Celebrity Couples Who Would Become Perfect Disney Princes and Princesses
Reviewed by
RP
on
May 08, 2023
Rating: