Súboj hviezdnych dvojíc ovládli Booker s Durantom, Phoenix vyrovnal sériu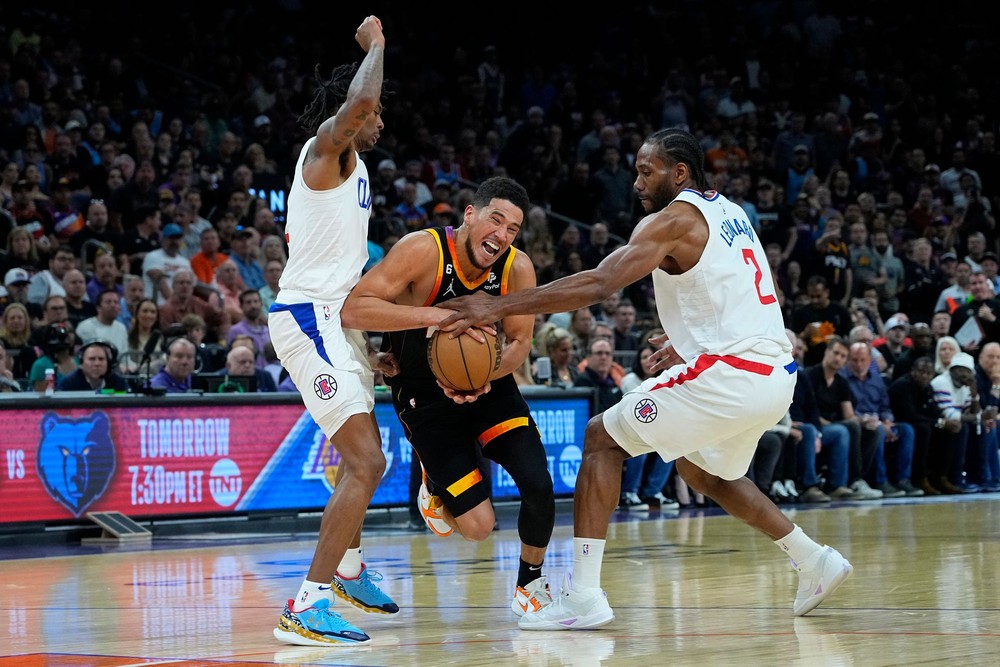 NEW YORK. Basketbalisti Bostonu vedú v sérii 1. kola play off NBA nad Atlantou už 2:0. V druhom dueli zdolali doma svojho súpera 119:106, keď sa 29 bodmi prezentoval Jayson Tatum.
Derrick White pridal 26 bodov a sedem doskokov. Cleveland a Phoenix v druhých dueloch doma uspeli a vyrovnali stav série na 1:1.
"V play off chceme predvádzať najlepšie výkony. Všetci sú zdraví a hrajú naozaj dobre. Môžeme však svoju hru ešte zlepšiť a dúfame, že sa môžeme dostať ešte na vyššiu úroveň," povedal Tatum podľa agentúry AFP.
Rozohrávač hostí Trae Young bol po prehre stručný. "Oni vyhrali, my sme prehrali. Musíme sa v ďalších dueloch zlepšiť."
Phoenix si poradil s Los Angeles Clippers 123:109 najmä vďaka 38 bodom v podaní Devina Bookera. Ďalších 25 pribudlo na konto Kevina Duranta.
VIDEO: Zostrih bodov Westbrook + Leonard vs. Booker + Durant
Strelecký líder Clippers bol Kawhi Leonard s 31 bodmi, v prvom dueli dosiahol 38. Russell Westbrook mal za hostí 28 bodov. Séria sa sťahuje do Los Angeles, tretí zápas je na programe v noci na piatok.
"V druhom domácom zápase sme potrebovali uspieť. Podarilo sa nám to a teraz cestujeme do Los Angeles. Je to play off, každé víťazstvo má svoju cenu. Nezáleží na tom, čo sa stalo v predchádzajúcom stretnutí. Našou úlohou je získať ďalšie," uviedol Booker.
Cleveland vyhral v druhom zápase štvrťfinále Východnej konferencie nad New Yorkom Knicks 107:90 a odplatil súperovi prehru z prvého stretnutia série. Darius Garland k tomu prispel 32 bodmi.
NBA – 1. kolo play-off – 19. apríl:
---
Východná konferencia:
Boston – Atlanta 119:106
Najviac bodov: Tatum 29 (10 doskokov), White 26, Brown 18 – Murray 29, Young 24, Bogdanovič a Hunter (12 doskokov) po 18
/stav série: 2:0/
Cleveland – New York 107:90
Najviac bodov: Garland 32, LeVert 24, Mitchell 17 (13 asistencií) – Randle 22, Brunson 20, Barrett 14
/stav série: 1:1/
Západná konferencia:
Phoenix – LA Clippers 123:109
Najviac bodov: Booker 38, Durant 25, Craig 17 – Leonard 31, Westbrook 28, Gordon a Powell po 12
/stav série: 1:1/
Súboj hviezdnych dvojíc ovládli Booker s Durantom, Phoenix vyrovnal sériu
Reviewed by
RP
on
April 19, 2023
Rating: