Patience or Panic on All 30 MLB Teams' Worst Early 2023 Slump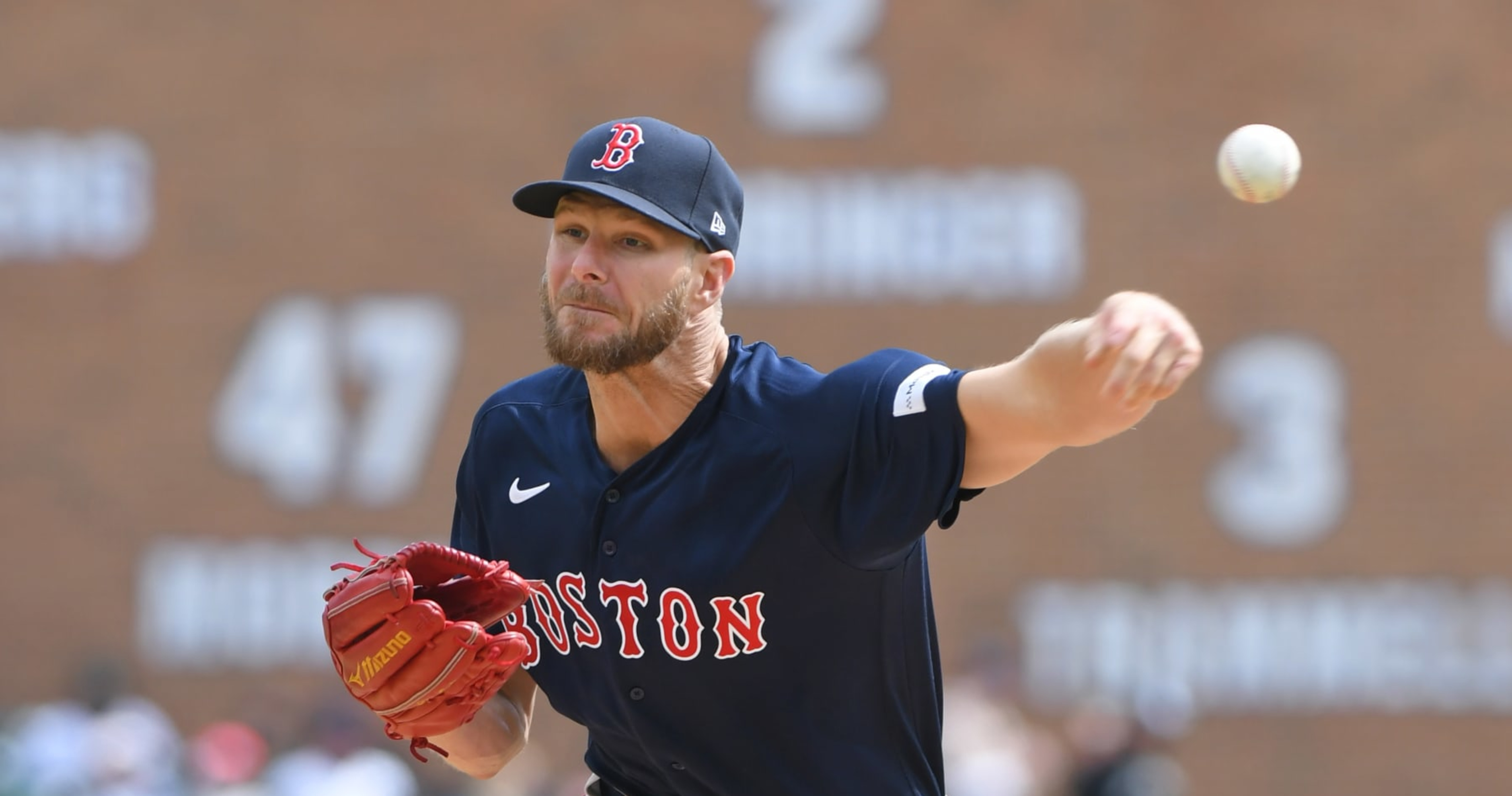 Patience or Concern on All 30 MLB Teams' Worst Early 2023 Slump
0 of 6
Chris SaleMark Cunningham/MLB Photos via Getty Images

Beware the small sample sizes that come with April baseball.

Everything is magnified when a player struggles for the first few weeks of a new season. It's hard to look up at the scoreboard and see a sub-.200 batting average or a four-digit ERA, but those early trends can shift dramatically.

A similar slump in August can go largely unnoticed, especially at a national level, but if a high-profile player struggles out of the gate, it tends to snag headlines.

With that in mind, what follows is a dive into each MLB team's worst early slump and a ruling on whether it provides a reason for concern or simply requires patience. Advanced metrics, track records, expectations and roster constructions all played roles in deciding which category to lump players into.
American League East
1 of 6
Alek ManoahMark Blinch/Getty Images

Baltimore Orioles: OF Anthony Santander

Stats: 15 G, 68 PA, .200/.279/.333, 6 XBH (1 HR), 6 RBI, 3 R

After posting a 117 OPS+ with 33 home runs last season, Santander was expected to once again be a key run producer in the middle of the Baltimore lineup. The 28-year-old is still making quality contact, but his strikeout rate has nearly doubled from 18.9 to 32.4 percent. With limited on-base skills to begin with, that has severely impacted his offensive value.

Verdict: Concern

---

Boston Red Sox: LHP Chris Sale

Stats: 4 GS, 1-1, 8.00 ERA, 1.67 WHIP, 9 BB, 30 K, 18.0 IP

With Nathan Eovaldi, Michael Wacha and Rich Hill having departed via free agency and Corey Kluber the only outside addition to the starting rotation, the Red Sox put a lot of eggs in the "Sale returning to ace form" basket. The 34-year-old looked sharp against the Minnesota Twins on Tuesday, but prior to that he had surrendered a .327 opponents' batting average while allowing a career-worst hard-hit rate (48.6 percent) and average exit velocity (91.2 mph) through his first three starts. Has he turned a corner?

Verdict: Patience

---

New York Yankees: SS Anthony Volpe

Stats: 17 G, 60 PA, .180/.317/.300, 3 XBH (1 HR), 2 RBI, 5 R, 7 SB

Volpe played his way onto the Opening Day roster by hitting .309/.415/.618 with 10 extra-base hits in 65 spring training plate appearances, but he is finding his footing in the big leagues. A six-game on-base streak and the fact that he is still just 21 years old is more than enough reason to preach patience.

Verdict: Patience

---

Tampa Bay Rays: OF Manuel Margot

Stats: 16 G, 52 PA, .217/.269/.370, 3 XBH (2 HR), 5 RBI, 6 R

Truth be told, it's difficult to find an underperforming player on the Rays roster amid their red-hot start. Margot had a career-high 104 OPS+ last season and was expected to be the team's primary center fielder after Kevin Kiermaier was cut loose. His $7 million salary makes him Tampa Bay's second-highest-paid player, so more is expected of him than what he's produced so far, but there's no reason to panic.

Verdict: Patience

---

Toronto Blue Jays: RHP Alek Manoah

Stats: 4 GS, 1-1, 6.98 ERA, 1.97 WHIP, 15 BB, 16 K, 19.1 IP

An American League-high 15 walks is the most alarming statistic for Manoah, especially after he issued just 51 free passes in 196.2 innings last year. He allowed just one hit over seven shutout innings against the Royals in his second start, but even in that game he walked four. His stuff is still in line with where it was during his breakout 2022 campaign, so he could be just a mechanical tweak away from figuring things out.

Verdict: Patience
American League Central
2 of 6
Javier BáezJulian Avram/Icon Sportswire via Getty Images

Chicago White Sox: DH Eloy Jiménez

Stats: 10 G, 42 PA, .184/.262/.237, 2 XBH (0 HR), 4 RBI, 4 R

A hamstring injury has limited Jiménez to just 10 games, but he has struggled mightily with 14 strikeouts. He went just 1-for-12 in his first three games after returning to action before collecting a pair of hits in a double-header on Tuesday, and he is still looking for his first home run. The injury is reason enough to believe he can find his groove with more reps.

Verdict: Patience

---

Cleveland Guardians: RF Oscar Gonzalez

Stats: 15 G, 47 PA, .156/.191/.267, 2 XBH (1 HR), 2 RBI, 5 R

Gonzalez benefited from good luck as a rookie, posting a .345 batting average on balls in play while hitting .296/.327/.461 for a 125 OPS+ in 382 plate appearances. That luck has turned dramatically this season, as he has a .171 BABIP, and a massive dip in his hard-hit rate—from 40.1 to 27.8 percent—is largely to blame. The lack of quality contact is alarming.

Verdict: Concern

---

Detroit Tigers: SS Javier Báez

Stats: 16 G, 64 PA, .193/.254/.246, 3 XBH (0 HR), 7 RBI, 5 R

A glance at where he stands in average exit velocity (33rd percentile), hard-hit rate (33rd percentile) and barrel rate (1st percentile) provides little reason for optimism that Báez is going to snap out of this funk. The Tigers are hitting .217 as a team, so plenty of players could have filled this spot, but the high-priced Báez has more pressure to perform.

Verdict: Concern

---

Kansas City Royals: RHP Brady Singer

Stats: 3 GS, 1-1, 7.88 ERA, 1.44 WHIP, 3 BB, 15 K, 16.0 IP

After taking a big step forward last year to emerge as the franchise ace, Singer seemed poised to join the top tier of AL starters. Instead, he is searching for his first quality start, and he was shelled for 10 hits and eight earned runs against the Braves last time out. His batted-ball metrics show he has been one of the most hittable pitchers in baseball, and a significant change in his extension might indicate his mechanics are out of whack. The Royals will give him every chance to improve on last year's success as they continue to rebuild.

Verdict: Patience

---

Minnesota Twins: 2B Nick Gordon

Stats: 14 G, 42 PA, .098/.119/.122, 1 XBH (0 HR), 0 RBI, 4 R

With Jorge Polanco sidelined with a knee injury, Gordon was given the opportunity to be the everyday second baseman after playing a super-utility role during his breakout 2022 season. His ugly .105 BABIP is more a result of consistent weak contact than bad luck, and last week's promotion of Edouard Julien pushed him back to a bench role, but he was expected to be a key contributor once again.

Verdict: Concern
American League West
3 of 6
Tyler AndersonJohn McCoy/Getty Images

Houston Astros: 1B José Abreu

Stats: 18 G, 79 PA, .253/.291/.293, 3 XBH (0 HR), 7 RBI, 4 R

The Astros signed the 36-year-old Abreu to a three-year, $58.5 million deal during the offseason, expecting him to be an upgrade at first base, but he is still searching for his first home run and has just three extra-base hits in 79 plate appearances. He hit .217/.308/.348 last April, and his .779 career OPS in March/April is by far his lowest in any month, so he has a history of slow starts.

Verdict: Patience

---

Los Angeles Angels: LHP Tyler Anderson

Stats: 3 GS, 1-0, 6.75 ERA, 1.84 WHIP, 8 BB, 10 K, 14.2 IP

Anderson had a career year in 2022, finishing 15-5 with a 2.57 ERA in 178.2 innings while earning his first All-Star selection, and he turned that into a three-year, $39 million contract with the Angels. After allowing just 14 home runs last season, he has already surrendered five, and his walk rate has also climbed from 4.8 to 11.8 percent. He doesn't have the stuff to succeed without plus command.

Verdict: Concern

---

Oakland Athletics: RHP James Kaprielian

Stats: 4 G, 3 GS, 0-2, 11.30 ERA, 2.09 WHIP, 12 BB, 15 K, 14.1 IP

The Athletics might lose 100 games before the end of August, and their starting rotation has an appalling 8.82 ERA, so there was no shortage of candidates for their worst early slump. Kaprielian seemed to have one of the higher floors on the roster after posting a 4.16 ERA in 253.1 innings over the past two seasons, but he has been pitching batting practice. He issued seven walks in 3.2 innings in his last start and clearly is not right.

Verdict: Concern

---

Seattle Mariners: 2B Kolten Wong

Stats: 16 G, 58 PA, .098/.190/.098, 0 XBH, 3 RBI, 6 R

Wong was one of the big offseason additions for the Mariners, plugging a hole at second base and providing a left-handed bat to slot alongside Julio Rodríguez at the top of the lineup. The 32-year-old had a career-high 118 OPS+ last season, but his offensive game is nowhere to be found, and his batted-ball metrics are some of the worst in baseball.

Verdict: Concern

---

Texas Rangers: OF Robbie Grossman

Stats: 15 G, 54 PA, .170/.259/.255, 2 XBH (1 HR), 6 RBI, 7 R

Grossman was a late addition to the Rangers roster, signing a one-year, $2 million deal in mid-February. After a 23-homer, 20-steal, 2.8-WAR season in 2021, he struggled to a .209 average and 80 OPS+ in 477 plate appearances last year and has picked up where he left off. The 33-year-old might be better suited for a bench role at this point.

Verdict: Concern
National League East
4 of 6
Jean SeguraTim Nwachukwu/Getty Images

Atlanta Braves: DH Marcell Ozuna

Stats: 14 G, 54 PA, .085/.204/.234, 3 XBH (2 HR), 2 RBI, 3 R

The Braves owe Ozuna $18 million this year, another $18 million next year and at least a $1 million buyout on a 2025 club option. Given that commitment, it's not surprising they gave him a chance to prove he can still contribute, but it's time to pull the plug and cut their losses after a 4-for-47 start at the plate.

Verdict: Concern

---

Miami Marlins: 3B Jean Segura

Stats: 17 G, 63 PA, .186/.226/.186, 0 XBH, 1 RBI, 5 R

Segura looked like a nice bargain pickup for the Marlins on a two-year, $17 million deal, but he is still searching for his first extra-base hit. Below his surface-level numbers, his batted-ball metrics are in line with what he produced a year ago, and his .253 expected batting average is a good indication there is positive regression to come.

Verdict: Patience

---

New York Mets: RHP Carlos Carrasco

Stats: 3 GS, 0-2, 8.56 ERA, 1.61 WHIP, 8 BB, 8 K, 13.2 IP

The Mets have promoted Brett Baty to potentially replace the struggling Eduardo Escobar at third base, so we'll instead focus on the starting rotation. With Justin Verlander injured and Chris Bassitt gone, the Mets are counting on Carrasco to be reliable. After a pair of rough starts, he looked better last time out with four hits and two earned runs allowed in five innings against the A's, but he needs to show he can do that against an offense that doesn't resemble that of a mediocre Triple-A team.

Verdict: Patience

---

Philadelphia Phillies: RHP Seranthony Domínguez

Stats: 8 G, 0-1, 0/1 SV, 10.80 ERA, 2.25 WHIP, 5 BB, 6 K, 6.2 IP

The Phillies bullpen has a National League-worst 6.30 ERA, and newcomers Craig Kimbrel (8 G, 6.43 ERA) and Gregory Soto (9 G, 4.70 ERA) have done little to stabilize the relief corps, but Dominguez has been the worst of the bunch. Arguably the team's best reliever a year ago, he has allowed multiple base runners in five of his eight appearances, and opponents are hitting .455 against his fastball.

Verdict: Concern

---

Washington Nationals: DH Joey Meneses

Stats: 16 G, 71 PA, .224/.268/.284, 4 XBH (0 HR), 4 RBI, 5 R

Meneses posted a 165 OPS+ with 14 doubles, 13 home runs and 34 RBI in 56 games as a 30-year-old rookie last season, and he raked for Team Mexico in the World Baseball Classic, but his first full season in the majors is off to a rocky start. With a 49.1 percent hard-hit rate and 90.0 mph average exit velocity, his luck at the plate could soon change.

Verdict: Patience
National League Central
5 of 6
Miles MikolasRick Ulreich/Icon Sportswire via Getty Images

Chicago Cubs: 1B/DH/OF Trey Mancini

Stats: 14 G, 60 PA, .196/.220/.250, 1 XBH (1 HR), 9 RBI, 4 R

A consistent middle-of-the-order presence during his time with the O's, Mancini signed a two-year, $14 million deal with the Cubs during the offseason. He has gone 0-for-16 with eight strikeouts over his last four games after an OK start. A slump like that would go largely unnoticed at any other point in the season.

Verdict: Patience

---

Cincinnati Reds: SS Jose Barrero/Kevin Newman

Stats: 17 G, 63 PA, .180/.239/.262, 3 XBH (1 HR), 11 RBI, 7 R

The above stats reflect what the tandem of Barrero and Newman have produced while playing shortstop this year, and they have accounted for all of the Reds' innings at the position. The 25-year-old Barrero is a former top prospect who has struggled in the majors, while Newman has always been a glove-first player. It's only a matter of time before one of the team's top middle infield prospects gets a look.

Verdict: Concern

---

Milwaukee Brewers: LF Christian Yelich

Stats: 18 G, 85 PA, .240/.329/.387, 5 XBH (3 HR), 7 RBI, 17 R

The days of Yelich contending for NL MVP honors are a thing of the past, but he was still a productive player last season, posting a 111 OPS+ and 2.7 WAR in 154 games. The 31-year-old is getting on base at a decent clip thanks to an 11.8 percent walk rate, but he also has 26 strikeouts. His hard-hit rate (95th percentile) and average exit velocity (89th percentile) provide reasons for optimism, but he needs to make more consistent contact.

Verdict: Patience

---

Pittsburgh Pirates: 3B Ke'Bryan Hayes

Stats: 17 G, 74 PA, .212/.284/.348, 6 XBH (1 HR), 7 RBI, 8 R

An elite defensive player, Hayes is trying to establish himself offensively after hitting .244 with an 88 OPS+ last season. The 26-year-old has strong batted-ball metrics, and his 13.1 percent whiff rate is among the best in baseball, but he has had bad luck with a .220 BABIP that is dragging down his numbers. A breakout could be coming.

Verdict: Patience

---

St. Louis Cardinals: RHP Miles Mikolas

Stats: 4 GS, 0-1, 8.10 ERA, 2.05 WHIP, 5 BB, 19 K, 20.0 IP

The Cardinals signed Mikolas to a two-year, $40 million extension before the start of the season. After posting a 3.29 ERA in 202.1 innings last season, he was expected to be one of the leaders of the rotation once again. Instead, he is off to a rocky start, though his 4.93 FIP paints a more promising picture and his .444 BABIP allowed is bound to come back to earth.

Verdict: Patience
National League West
6 of 6
Ezequiel TovarDustin Bradford/Getty Images

Arizona Diamondbacks: LHP Madison Bumgarner

Stats: 3 GS, 0-2, 7.90 ERA, 2.12 WHIP, 11 BB, 8 K, 13.2 IP

In the fourth season of a five-year, $85 million deal, Bumgarner has allowed a .321/.429/.554 batting line this season. The even more troubling stat is the 11 walks he has allowed in 13.2 innings, as diminished stuff leaves him even more reliant on command at this point in his career. With some good, young up-and-coming arms, it might be time for the D-backs to cut their losses and release the veteran left-hander.

Verdict: Concern

---

Colorado Rockies: SS Ezequiel Tovar

Stats: 16 G, 59 PA, .200/.254/.273, 4 XBH (0 HR), 4 RBI, 6 R

The Rockies let veteran José Iglesias walk in free agency and made no outside addition to replace him at shortstop. Instead, they turned things over to Tovar, who began the year as the team's top prospect. He hit .302/.373/.453 during spring training, but his rock-bottom batted-ball metrics suggest he might benefit from more minor league seasoning. Regardless, his ceiling remains extremely high.

Verdict: Patience

---

Los Angeles Dodgers: SS Miguel Rojas

Stats: 11 G, 35 PA, .125/.200/.156, 1 XBH (0 HR), 0 RBI, 1 R

With Gavin Lux out for the season, Rojas went from a valuable depth piece to the Dodgers' everyday shortstop, and he has floundered in that role thus far. His hard-hit rate and average exit velocity are actually up from last year, but that isn't saying much since he had a 73 OPS+ in 2022. Utility man Chris Taylor is also an option at shortstop, but he is hitting only .125 with a 61 OPS+, so finding an outside replacement could be a trade deadline priority.

Verdict: Concern

---

San Diego Padres: LHP Blake Snell

Stats: 4 GS, 0-3, 6.00 ERA, 1.89 WHIP, 13 BB, 21 K, 18.0 IP

Snell has a lot on the line this year with free agency awaiting. After posting a 3.38 ERA with 171 strikeouts in 128 innings last year, he has stumbled out of the gate. The 30-year-old has allowed 21 hits, 12 earned runs and 13 walks in 18 innings, and his fastball velocity is down a tick from last year. It might be time to hit the panic button.

Verdict: Concern

---

San Francisco Giants: SS Brandon Crawford

Stats: 14 G, 56 PA, .160/.250/.300, 3 XBH (2 HR), 6 RBI, 3 R

With a .188 expected batting average and a career-low 29.4 percent hard-hit rate, Crawford might be coming to the end of the line on an extremely productive career. The 36-year-old was set to shift to third base when it looked like Carlos Correa was headed to the Giants. He could instead move to the bench with top prospect Casey Schmitt off to a hot start at Triple-A following a strong spring training.

Verdict: Concern

---

All standard stats courtesy of Baseball Reference. Advanced metrics courtesy of Baseball Savant.
Patience or Panic on All 30 MLB Teams' Worst Early 2023 Slump
Reviewed by
RP
on
April 20, 2023
Rating: