Nikola Jokić's Triple-Double on Rudy Gobert Impresses Fans as Nuggets Beat T-Wolves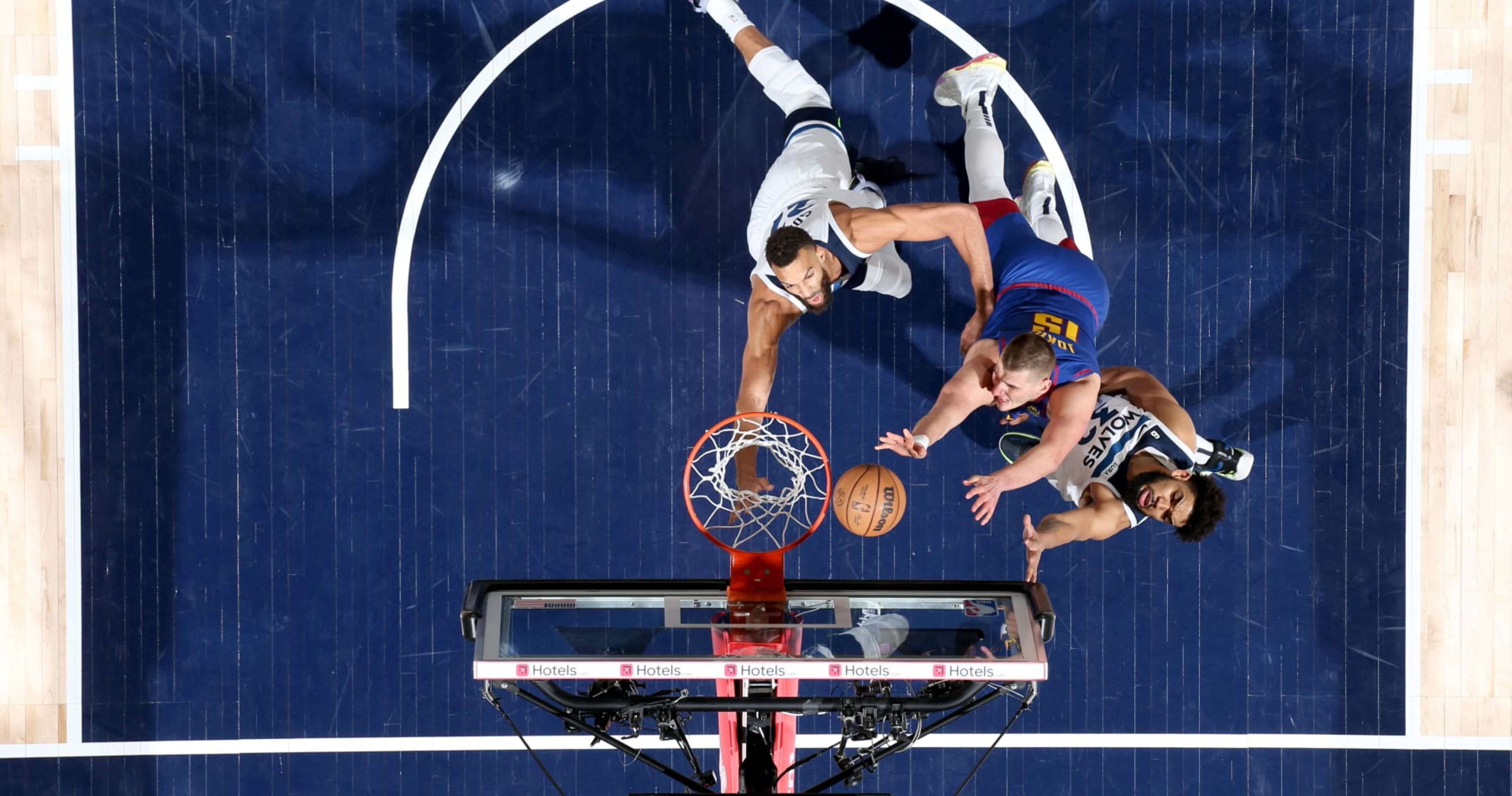 Julia Stumbaugh
April 22, 2023

David Sherman/NBAE via Getty Images
Denver fans did not only see the Nuggets put the Minnesota Timberwolves on the brink of elimination Friday, but they also saw Nikola Jokić make NBA history.
Jokić registered 20 points, 12 assists and 11 rebounds to lead the Nuggets to a 120-111 Game 3 win at Target Center in Minnesota. Denver now leads the Western Conference first-round series 3-0.
The game marked Jokić's seventh career playoff triple-double. He now trails only Wilt Chamberlain, who recorded nine, for the most for centers in league history, per ESPN Stats & Info.
Jokić was consistently matched up against Rudy Gobert, who is often Minnesota's best two-way player. Gobert visibly struggled throughout Friday night to contain Jokić.
$hai gudda @shaiheim4

Gobert playing like he scared of jokic
just lbs. @just_lbs

Jokic only likes to score on Gobert
Ben Sigwart @sig_50

Nikola Jokic loves the Rudy Gobert matchup this series. He's attacking the man in the way that you'd hope an empowered Deandre Ayton would attack opposing Center's after listening to a Shaq spiel.
Mcgruder's McGriddle @marpmaster47

Nah jokic is BABYING gobert in the post
jansport jayy🍥🥷🏾🎒 @jayyfstarr

Jokic quietly giving gobert work right now
💀  @Freshemillion

Gobert is a 3-time DPOY and Jokic just makes mincemeat out of him lol
Gavin @Overholtz21

Gobert is definitely about to have nightmares about Jokic 😂
rowdy & wet. @BoogieJuice_

Jokic in the post against Gobert always is art
Ezequiel Alba @ezequielalba_

Jokic is just toying with Gobert.
Chuck. @sup_chuck

Jokic kills GoberT every time they play lol
Jokić's triple-double did not involve a single free-throw attempt.
He was forced to sit for a chunk of the third quarter after accruing four fouls, but the Nuggets managed to hold on to the momentum and extend their lead over the Wolves even with their hottest player on the bench.
Michael Porter Jr., who stepped up in Jokić's absence, led Denver with 25 points by the end of the night.
Allan @alwg88

Minnesota didn't take advantage of Jokic on the bench with four fouls in the 3rd. Recipe for another L.
Nick Kosmider @NickKosmider

The Nuggets not hemorrhaging points when Jokic is on the bench has been one of the most positive developments of this series for Denver.
ً @AfnanRehan3

Us having a 6 point lead still with jokic out for like 7 mins is huge, people can ask for a better quarter finish but have to understand the circumstances, our regular season bench would have had us at a 10 point deficit by now
Since being founded as the Larks in 1967, Denver has yet to sweep a playoff series. As the Wolves search for an answer to Jokić, the Nuggets will battle for that franchise first when they take on the Timberwolves in Game 4 on Sunday in Minnesota.
Nikola Jokić's Triple-Double on Rudy Gobert Impresses Fans as Nuggets Beat T-Wolves
Reviewed by
RP
on
April 23, 2023
Rating: