Light Novel 'Yarinaoshi Reijou wa Ryuutei Heika wo Kouryakuchuu' Gets Anime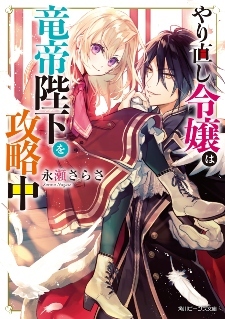 Publisher Kadokawa announced an anime adaptation of Sarasa Nagase's Yarinaoshi Reijou wa Ryuutei Heika wo Kouryakuchuu (The Do-Over Damsel Conquers the Dragon Emperor) light novel on Friday.
Nagase began writing the fantasy romance novel on the Shousetsuka ni Narou website in November 2019. Kadokawa began publishing the title under its Beans Bunko imprint in March 2020, featuring illustrations by Mitsuya Fuji. The sixth volume went on sale on Friday.
A manga adaptation drawn by Anko Yuzu began on the Comp Ace magazine in July 2020. Kadokawa released the fourth volume on December 26.
Cross Infinite World licensed the light novel in English last December, while Yen Press licensed the manga on February 17 under the title The Second-Chance Noble Daughter Sets Out to Conquer the Dragon Emperor. The second volume of the novel is scheduled to ship on June 30. The first manga volume is planned for an August 22 release.
Synopsis
Jill is sentenced to death by the crown prince, her fiancé. But just before she dies, she's sent back in time six years to the party where their engagement had been decided. To avoid this route of ruin, Jill immediately proposes to the person standing behind her… but it's the man who was her greatest enemy, Emperor Hadis?! Jill knows all about his future descent into evil. She quickly retracts the proposal, but the delighted Hadis takes her back to his castle and makes her a meal. Completely won over by the food, Jill makes a life-changing decision…
"I'm going to reform—no, I'm going to make you happy!"
It's time to redo this life with the enemy! (Source: Cross Infinite World)
Novel special site: https://beans.kadokawa.co.jp/sp/series156/
Source: Comic Natalie
Yarinaoshi Reijou wa Ryuutei Heika wo Kouryakuchuu on MAL
Light Novel 'Yarinaoshi Reijou wa Ryuutei Heika wo Kouryakuchuu' Gets Anime
Reviewed by
RP
on
April 28, 2023
Rating: