How Warming Upended One of Greenland's Most Stable Glaciers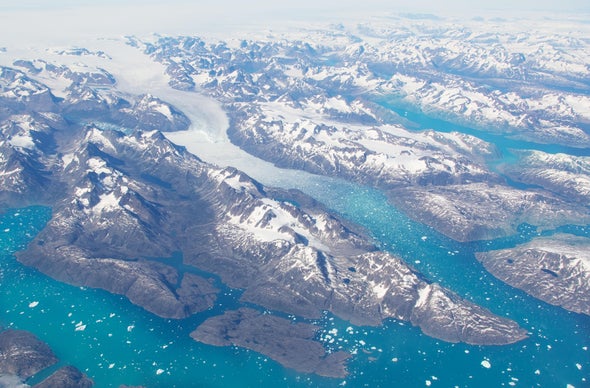 https://static.scientificamerican.com/sciam/cache/file/4641809D-B8F1-41A3-9E5A87C21ADB2FD8_source.png" data-newsletterpromo_article-button-text="Sign Up" data-newsletterpromo_article-button-link="
https://www.scientificamerican.com/page/newsletter-sign-up/?origincode=2018_sciam_ArticlePromo_NewsletterSignUp&#8221
; name="articleBody" itemprop="articleBody">
CLIMATEWIRE | For decades, the Steenstrup Glacier was one of Greenland's most stable swaths of ice. Then it suddenly began to retreat inland in 2018, dumping ice into the sea as it shrank. By 2021, it had quadrupled its rate of retreat and doubled the amount of ice that it was pouring into the ocean.
It was one of the fastest accelerations of melting ice that scientists had ever observed from a Greenland glacier. And it may be a warning sign for the future.
A new study suggests that an influx of warm, deep ocean water was likely to blame. The deep waters around Greenland are heating up over time, meaning these kinds of episodes may grow more frequent in the future.
That's cause for concern. Greenland is already the world's single-largest contributor to global sea-level rise, losing around 250 billion metric tons of ice each year.
Crumbling glaciers at the edge of the ocean account for about half of those losses, with the other half coming from melting ice at the surface of the ice sheet. As glaciers retreat at faster speeds, they'll dump more ice into the ocean, further increasing the rate of sea-level rise.
Steenstrup's behavior raises concerns about how stable glaciers may respond to warming in the future.
"The fact that the glacier's velocity has quadrupled in just a few years opens up new questions about how fast large ice masses can really respond to climate change," said lead study author Thomas Chudley, a research fellow at Durham University in the United Kingdom, in a statement.
The study examines Steenstrup's abrupt destabilization. Prior to 2018, the glacier had experienced almost no changes at all for decades. But between 2018 and 2021, it retreated inland by nearly 4.5 miles.
During this time, the amount of ice pouring off the glacier into the ocean doubled. By 2021, it was losing more than 6 billion tons of ice per year, launching it into the top 10 percent of ice-losing glaciers in Greenland.
The causes weren't immediately clear.
A number of other glaciers in Greenland's southeastern sector, where Steenstrup is located, have experienced increased rates of retreat since 2016. Scientists believe several drivers are to blame. High air temperatures can help heat up ocean water close to the surface of the sea, and these warm surface waters can increase glacier melting.
In addition, the water in front of many seaside Greenland glaciers is often filled with chunks of floating ice and slush, a mixture known as ice mélange. This mélange presses up against the fronts of the glaciers, helping to bolster the ice and prevent it from crumbling into the sea. Warm surface waters can break up the mélange, removing that extra source of support and allowing the glaciers to melt even faster.
But the authors of the new study found that none of these factors seem to have played a major role at Steenstrup. Instead, they hypothesize that warm, deep ocean waters — hundreds of feet below the surface — helped speed up the melting.
Steenstrup is surrounded by shallow waters in an area that isn't usually vulnerable to the influence of deep ocean currents. But data and model simulations suggest that the region saw a large intrusion of warm, deep water in 2018 — and it appears to have rapidly destabilized the glacier.
Since 2021, Steenstrup appears to have slowed down again. But it opens up new questions for scientists about the ways climate change may affect glaciers they previously considered stable or safe.
Steenstrup was relatively isolated from the influences of warm air and rising surface water temperatures for decades — but a sudden influx of deep, warm water was enough to tip it into dangerous territory. That means others could follow suit, especially as the waters around Greenland continue to warm.
"Steenstrup has shown that the stability of glaciers is hard to predict using our current knowledge," the researchers note. Better on-the-ground observations of the region would help scientists gain more insight into the ways climate change is affecting Greenland's glaciers.
And these insights could help scientists make predictions for ice in other parts of the world, including vulnerable regions of Antarctica.
"What's happening in Greenland right now is kind of the canary in the coal mine of what might happen in West Antarctica over the next few centuries," Chudley said. "So it would be great to be able to get into the fjord with real, on-the-ground observations and see how and why Steenstrup has changed."
Reprinted from E&E News with permission from POLITICO, LLC. Copyright 2023. E&E News provides essential news for energy and environment professionals.
ABOUT THE AUTHOR(S)
Chelsea Harvey covers climate science for Climatewire. She tracks the big questions being asked by researchers and explains what's known, and what needs to be, about global temperatures. Chelsea began writing about climate science in 2014. Her work has appeared in The Washington Post, Popular Science, Men's Journal and others.
How Warming Upended One of Greenland's Most Stable Glaciers
Reviewed by
RP
on
April 26, 2023
Rating: