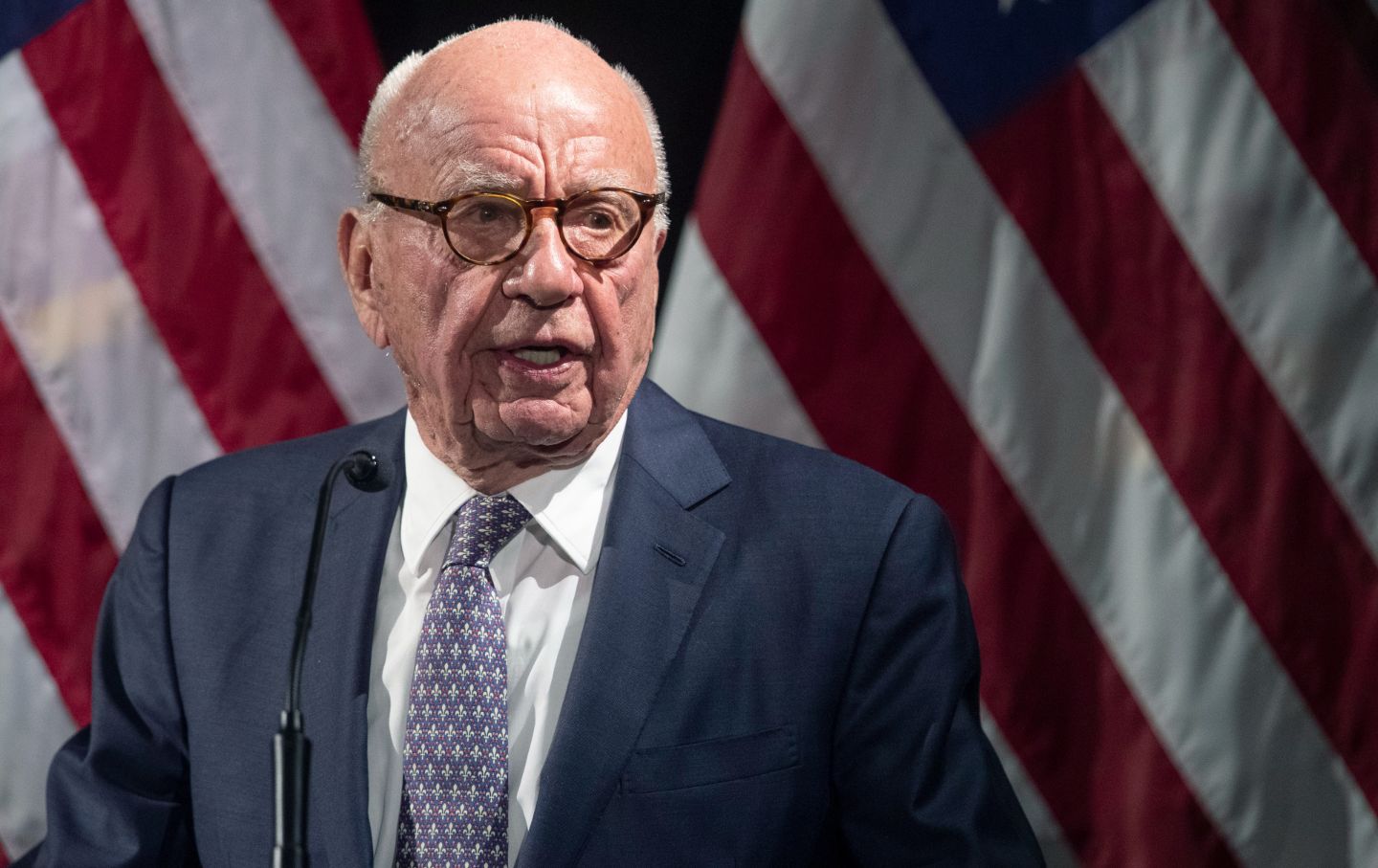 Rupert Murdoch Admits That Fox Pushed Trump's Election Lies for Profit
Rupert Murdoch Admits That Fox Pushed Trump's Election Lies for Profit
An explosive new filing in the Dominion lawsuit shows that the News Corp head knew the ex-president's 2020 claims were false but kept peddling them to keep ratings up.
By Joan Walsh
Twitter
Yesterday 12:46 pm

"It's not red or blue—it is green."
That single sentence sums up Rupert Murdoch's craven approach to pushing Donald Trump's election lies, documented in the bombshell new filing in Dominion Voting Systems' defamation lawsuit against Fox News. Some of the self-damning Murdoch quotes came from his own deposition, others from e-mails or texts with other Fox management, board members and politicians.
Specifically, the red-blue-green quote came after he was asked by Dominion lawyers why he continued to give a platform to Mike Lindell, purveyor of lies about election fraud and lumpy pillows. After mocking the My Pillow guy's election fraud blather—"At first you think it's comic, then you get bored and irritated"—Murdoch admitted that Lindell remained on the air because he was a top Fox advertiser. That would be one of the most craven admissions in journalism history—if Fox were practicing actual journalism.
This latest Dominion filing in some ways tops the last one, in which it was confirmed that Fox's three top prime-time hosts, Tucker Carlson, Sean Hannity and Laura Ingraham, knew Trump defenders were lying on air—and yet continued to book them. The trio had seconds-long truth outbreaks, in texts to one another, but in the end, they feared lying less than they feared losing their audience, and with it the network's towering profitability. Carlson urged the firing of a Fox journalist who fact-checked Trump's lies on air. "Please get her fired," he said, adding: "It needs to stop immediately, like tonight. It's measurably hurting the company. The stock price is down. Not a joke."
​​For his part, Murdoch showed spasms of conscience. "I'm a journalist at heart," he claimed. "I like to be involved in these things." That's bullshit. Asked by a Dominion lawyer whether he "seriously doubted any claim of massive election fraud," Murdoch replied: "Oh, yes.… I mean, we thought everything was on the up-and-up. I think that was shown when we announced Arizona," referring to Fox's controversial (on the right) but correct projection that Biden would win the newly purple state. And Fox did set up a "Brain Room" to fact-check various election fraud claims, and it found that most of them were false. But the network did nothing, except shut down the Brain Room.
And he did occasionally think about doing the right thing. From the Dominion filing, via Marcy Wheeler:
On January 5, Rupert and [CEO Suzanne] Scott discussed whether Hannity, Carlson, and Ingraham should say some version of "The election is over and Joe Biden won." He hoped those words "would go a long way to stop the Trump myth that the election [was] stolen."… Scott told Rupert that privately they are all there but ["]we need to be careful about using the shows and pissing off the viewers.["]… So nobody made a statement.
The Fox trio said nothing. The next day, Trump backers, many no doubt Fox watchers, stormed the Capitol.
The two filings show that, instead of promoting the truth, Murdoch and Scott, along with Hannity, Carlson, and Ingraham, attacked the handful of actual journalists at the network, who accurately reported that Trump's claims were false, insisting that they be reined in or even fired. In just one instance from the latest filing: After former anchor Shepard Smith blasted the "Trump administration's lies" on his show, Murdoch blasted Smith in an e-mail to Scott. "Over the top!… Need to chat to him." Smith is long gone from the network.
Murdoch also revealed Fox News Corp's role as a wing of the Republican Party when he testified that he "provided Trump's son-in-law and senior advisor, Jared Kushner, with Fox confidential information about Biden's ads, along with debate strategy…(providing Kushner a preview of Biden's ads before they were public)." Trump's belated decision to dump crackpot " lawyer" Sidney Powell was provoked by criticism from the right-wing network. "Fox was instrumental in maneuvering Powell both into the Trump campaign and then out of it," Dominion's lawyers said.
One lonely, consistent, higher-up truth-teller was Fox News board member Paul Ryan, the former House speaker. He told Murdoch and others "that Fox News should not be spreading conspiracy theories" and urged the network to "move on from Donald Trump and stop spouting election lies." But they mostly ignored him. Murdoch did e-mail Ryan that the January 6 violence could be a "wake-up call for Hannity, who has been privately disgusted by Trump for weeks, but was scared to lose viewers."
A small digression here: Ryan is no hero. He's widely been a dishonest critic of the social safety net, calling it a "hammock" in which the poor loll around instead of working, and dividing Americans into "makers and takers." And he joined the Fox board long after he had seen Fox's role in promoting Donald Trump, as well as the network's pre-Trump anti-Obama racist garbage. In 2010, almost 13 years ago, I wrote in Salon about Fox's racist "50-State Southern Strategy." Fox has spread right-wing and often racist conspiracy theories since its inception.
Ryan, though not the wonky brainiac of Beltway lore, is smart enough to have known that before joining the board. If he had an ounce of integrity, he'd never have joined; if he had a grain of it, he'd have left the board in 2020. But he defended his position last week, in an interview with longtime Wisconsin conservative (but Never Trumper) Charlie Sykes, who's been a Ryan supporter. "I think it's really important in society, that we have strong cultural, private institutions that can stand up toward what I would call it sort of a woke conformity," he told Sykes. "Woke conformity," Paul? Glad you're still peddling Fox talking points. Brainiac, indeed.
On Truth Social, Trump railed against Murdoch and Ryan: "Why is Rupert Murdoch throwing his anchors under the table, which also happens to be killing his case and infuriating his viewers, who will again be leaving in droves—they already are. There is MASSIVE evidence of voter fraud & irregularities in the 2020 Presidential Election." He called Ryan a "loser."
Meanwhile, MSNBC, in real time, broke down the shocking revelations in the new filing Monday afternoon. After watching former Republican host Nicolle Wallace fillet Murdoch, I flipped over to Fox itself. The Five, its afternoon, men-inclusive, less-serious version of The View, was discussing the declining market for… printers. Most of us now read and communicate electronically, poor Dana Perino admitted, but she still "has to print everything out."
I guess nobody printed out the Dominion filing for any of "the Five," because it never came up.