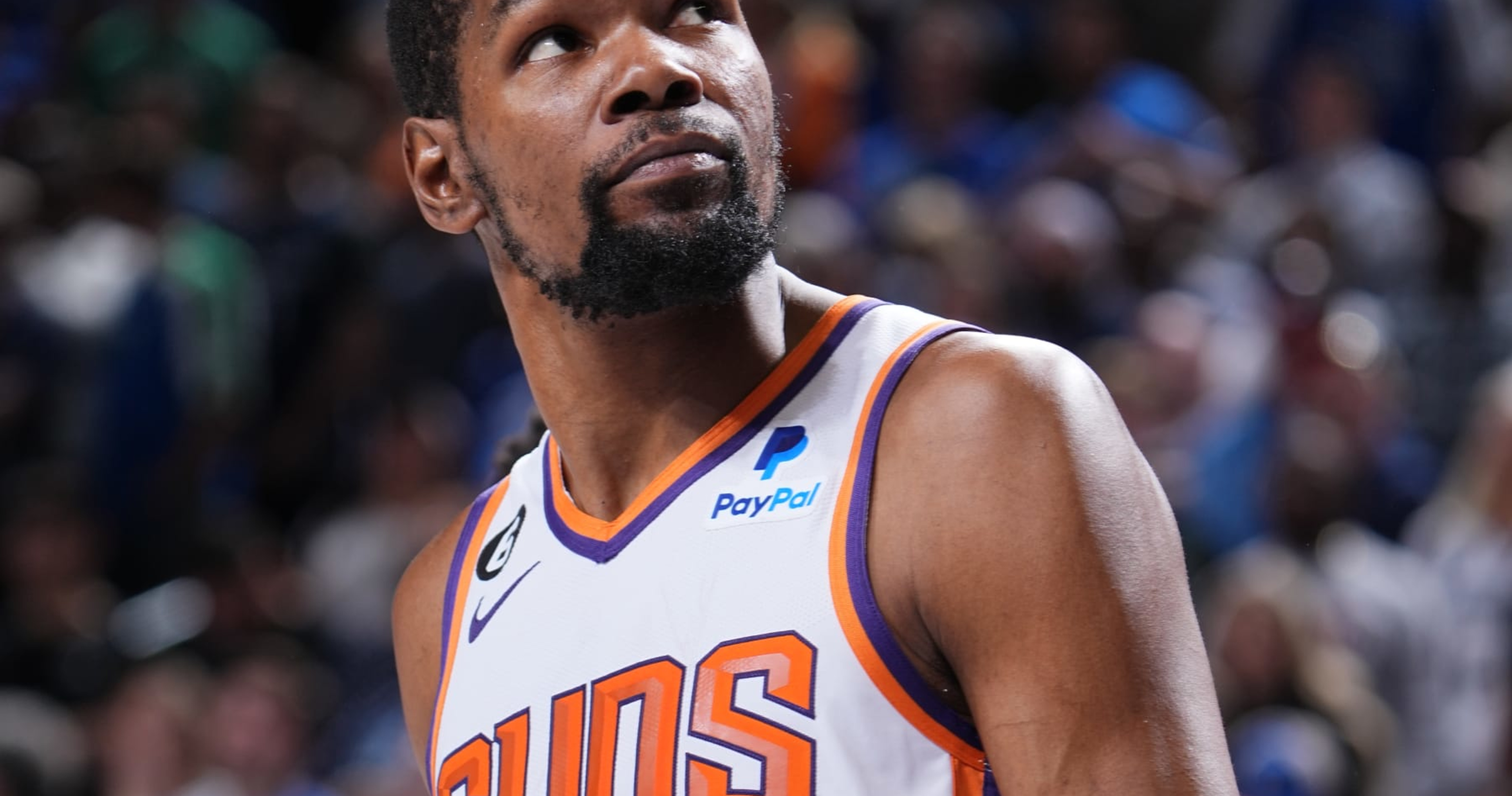 Kevin DurantGlenn James/NBAE via Getty Images
With a month left in the 2022-23 NBA season, the Western Conference has suddenly become the Wild West.
The Denver Nuggets are seven games up on second place, so finishing first feels like a foregone conclusion for them. But they're far from a lock to represent the conference in the Finals, and the rest of the standings are a nightmare to decipher.
Just when it looked like the Phoenix Suns were ready to make a charge toward a top-two spot, Kevin Durant went down with a sprained ankle during Wednesday's warm-ups. He'll be re-evaluated in two weeks, which of course doesn't mean that that's when he'll be back. Any chance at the development of on-court chemistry for KD and his new teammates before the playoffs is now in jeopardy.
But Durant and the Suns are far from being on the shakiest ground out West.
That position is probably held by the Memphis Grizzlies, who've been in second place for most of the regular season.
In the last week alone, Ja Morant was investigated by the Glendale (Colorado) Police Department after he displayed a handgun in an Instagram Live video (an investigation that did not lead to any charges), Brandon Clarke suffered a season-ending torn Achilles and Steven Adams received a stem cell injection in his injured knee that ended his regular season.
As of this writing, Morant is still away from the team, and there's no definitive return date.
His Grizzlies, as well as the Suns, likely fancied themselves title contenders earlier this month. They probably still do, but that pursuit is now, at the very least, more complicated for both.
Still, Memphis and Phoenix are among the top five Western Conference teams in FiveThirtyEight's championship projection system.
Denver Nuggets: 17 percent
Memphis Grizzlies: 9 percent
Golden State Warriors: 7 percent
Phoenix Suns: 5 percent
Dallas Mavericks: 2 percent
And they aren't the only ones for which you can make a reasonable "they can win it all" case.
With so much news flying in over the last several days, now is a perfect time to sort them all out.
---
Outside Looking In
With apologies to the 38-26 Sacramento Kings, their lack of postseason experience makes it easy to bet against them. They're certainly a threat to win a series, but of the group outside that aforementioned top five (Sacramento, the Los Angeles Clippers, Minnesota Timberwolves, New Orleans Pelicans and Los Angeles Lakers), Kawhi Leonard and the Clippers feel like the biggest threat to crash the party.
They lost their first five games with Russell Westbrook, but his usage was reined way in over the last two games (both wins), and there's always a chance Kawhi activates Terminator mode in the postseason.
Health is always a concern for Leonard, but that feels like a bigger issue for the Lakers (who already have LeBron James on the shelf), Pelicans (still without Zion Williamson) and Timberwolves (Karl-Anthony Towns hasn't played since November, and it's hard to have a feel for how he and Rudy Gobert will fit together).
---
Second-Tier Contenders
5. Memphis Grizzlies
The Grizzlies made a statement in Thursday's win over the Golden State Warriors, and they reminded everyone of how valuable a starting-caliber backup point guard can be.
Over the last two years, Memphis is plus-7.0 points per 100 possessions when Tyus Jones, Desmond Bane and Jaren Jackson Jr. are all on the floor without Ja Morant. And last season's injuries to Morant mean that number comes from a pretty significant sample size.
The Grizzlies aren't better without their superstar, but the ball often pops when Morant isn't dominating it, Jones is a better outside shooter and the defense is less prone to blow-bys at the point of attack.
All that means Memphis should remain, at the very least, competitive for the rest of the regular season. And if it can get Ja and Adams back for the postseason, it'll be dangerous.
There's just so much turmoil here right now. Three important rotation players, including one perennial All-Star, are out. One of those absences is the product of highly unusual circumstances. And taken together, it just makes it harder to trust this team to make a deep run.
4. Dallas Mavericks
The Mavericks haven't avoided the injury bug either, but an MRI on Luka Dončić's thigh reportedly came back clean. That alone makes this situation feel a little easier to predict than Memphis'.
And we're less than a year removed from Luka putting the Mavericks on his back for a ride to the Western Conference Finals.
During his career, Dončić has averaged an eye-popping 32.5 points, 9.3 rebounds and 7.9 assists in 28 playoff games.
His new co-pilot, Kyrie Irving has his own playoff highlights too. He's averaged 23.3 points and 2.3 threes while shooting 39.3 percent from deep in 74 postseason games. And he hit one of the biggest shots we've ever seen on the way to the 2016 championship.
Having those two together will give the Mavericks an unstoppable attack, particularly in isolations or pick-and-rolls for whichever guard draws the opposition's second-best perimeter defender.
But availability certainly hasn't been a hallmark of Kyrie's career, and his looming free agency could affect the team's focus as well.
The trade to acquire him also cost Dallas its best defensive option (Dorian Finney-Smith) against wings like Bane, KD, Klay Thompson and Michael Porter Jr.
---
First-Tier Contenders
3. Golden State Warriors
What a strange season it's been for the reigning champion Warriors.
All year, they've hovered around .500, dealt with injuries (or other reasons for absences) up and down the roster and a bench that has given them next to nothing.
But this is still Golden State. Stephen Curry is still playing like a superstar, and if everyone else is available, a title run isn't out of the question.
The Warriors are plus-21.9 points per 100 possessions when Curry, Klay Thompson, Andrew Wiggins, Draymond Green and Kevon Looney are all on the floor, which is still the best five-man lineup net rating (minimum 200 minutes).
2. Phoenix Suns
Of course, Durant missing most or all of the rest of the regular season is worse than the alternative.
It's hard to integrate any rotation player acquired midseason, but that's especially true of a superstar (on the rare occasions one is moved during the season). These few weeks were supposed to be Phoenix's opportunity to do so with Durant.
Without them, the first round may end up being little more than a crash course for the team to learn how to play with each other.
But if there's any all-time great who might be able to skip that phase, it is Durant. Among the very few players in NBA history who were at or near his level, few games seem as malleable.
That was on stunning display during his three seasons with the Warriors and his three games with the Suns.
Durant can completely dominate a game taking 10 or 15 shots and hardly handling the ball. That was the approach he seemed to be taking early on with Phoenix. As a catch-and-shoot outlet, few have ever been as devastating.
But he's obviously much more than that. When called upon, Durant can dominate in isolation, run an offense or handle in the pick-and-roll. And all of those descriptions apply to Chris Paul and Devin Booker too. Throw in Deandre Ayton and his ability to finish on the rare occasions those three don't, and you have a truly unstoppable offense.
We haven't even mentioned what Durant can bring defensively either. He has the athleticism to fit in as a wing in a switch-heavy scheme, but his size also means he can play some de facto 5.
If his ankle is all the way back to normal and the rest of his teammates are healthy in the playoffs, the Suns can absolutely win the championship.
1. Denver Nuggets
So how, after that glowing review of Phoenix, can the Nuggets still have the top spot here (and in the aforementioned projection system)?
First of all, there is no guarantee Durant and CP3 can stay healthy throughout a playoff run. Durability has been a significant problem for both in recent years.
But the Nuggets don't have to rely on that wild card.
They're good enough to beat the fully healthy versions of any of the above.
Nikola Jokić rightfully won each of the last two MVP awards. This season, he's averaging a triple-double with an otherworldly 70.0 true shooting percentage and is a runaway favorite in Basketball Reference's MVP Tracker ("based on a model built using previous voting results") to secure the game's top individual honor for a third time.
And unlike last year, when Jamal Murray and MPJ both missed the playoffs with injuries, it looks like Jokić will get to the postseason with a title-caliber supporting cast.
Even after a disappointing blowout loss to the Chicago Bulls on Wednesday, he and the rest of Denver's starters rank first, second, third, fourth and 13th in the NBA in total plus-minus.
Nikola Jokić: +576
Kentavious Caldwell-Pope: +485
Aaron Gordon: +469
Michael Porter Jr.: +388
Jamal Murray: +276
Surrounding the playmaking big with elite shooting and just enough defense has been a recipe for a hefty lead over everyone else in the Western Conference standings.
And the last time Jokić, Murray and MPJ were all available for the playoffs, the Nuggets were an ahead-of-schedule participant in the conference finals.
Add Aaron Gordon and KCP to that mix and it's easy to imagine Denver making a run.