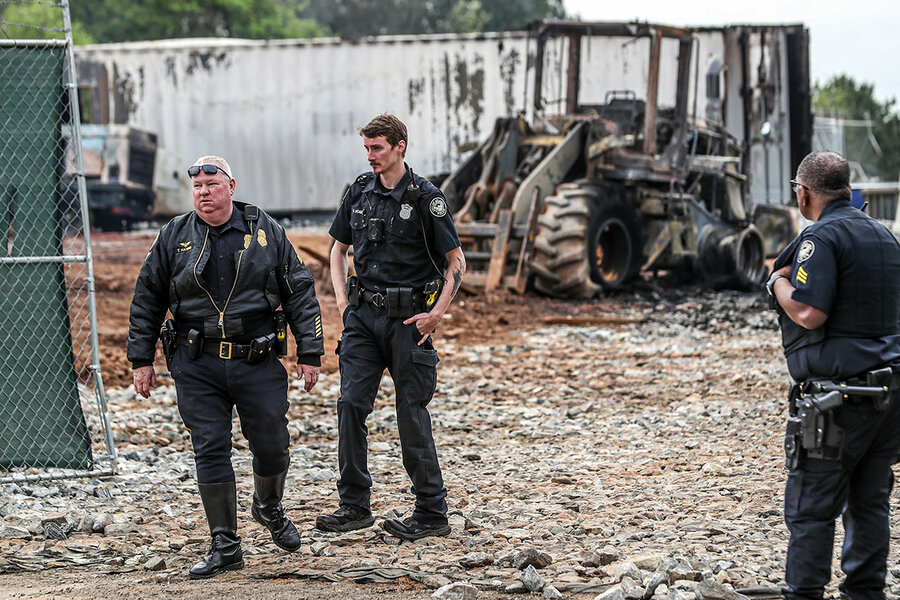 When protesters launched fireworks at Atlanta police and set a construction tractor ablaze Sunday, police say they crossed a line. This was "a coordinated attack on construction equipment and police officers," a department spokesperson said. 
The result: Nearly two dozen protesters were charged with domestic terrorism. 
Why We Wrote This
The United States is gripped by sharp disagreement about when activism tips into lawlessness. This week, left-wing protesters in Atlanta were charged with terrorism, laying down a new marker in the debate.
The subject of their ire is "Cop City" – a proposed police training facility in a city forest. And the clash is raising new questions in the national conversation about the line between activism and a loss of law and order.
Amid a surge in political violence, more states are expanding domestic terrorism laws – and using them. But the inability to clearly define what terrorism actually is makes applying them to situations like the one in Atlanta a fraught prospect. Left-wing violence is increasing, data suggests. But police can tend to focus on left-wing extremism while excusing right-wing extremism, some experts say.
Says Patrick Keenan of the University of Illinois College of Law: Laws intended to deal with international terrorism like 9/11 "are used more often in ordinary domestic crimes … [so] they become regularized, normalized."
Within hours of arriving in the South River Forest last Sunday, Annie, a tall, dreadlocked woman from "another city" with multiple facial studs, hunkered down. Swarms of police were entering the forest, grabbing people from the shadows and cuffing them.
 
Moments before, she says, a friend she traveled with had gone off "to take a walk through the forest." Prosecutors say he was on a mission of domestic terror. He was arrested along with 22 other activists that day and is now being held without bond and facing state charges that include domestic terrorism.
The protesters are here to stop what they dub Cop City – a proposed police training facility in the South River Forest, also known as the Weelaunee Forest. They are a mix of environmentalists, anti-police activists, and a loose confederation of like-minded groups. But police say they have gone beyond trespassing and are destroying property and using violence to push an ideology and endanger public safety. The Federal Bureau of Investigation is mulling federal charges.
 
"Everyone who comes here [to protest] knows full well they could catch a 'DT,'" or domestic terrorism charge, says Annie, who refused to give her real name or allow a picture, concerned she would be targeted for arrest.
That is raising the stakes even higher, she adds. "Someone has died," she says, referring to the police killing of a protester in January. "More could die."
Why We Wrote This
The United States is gripped by sharp disagreement about when activism tips into lawlessness. This week, left-wing protesters in Atlanta were charged with terrorism, laying down a new marker in the debate.
Americans have for years debated where to draw the line between law and order and the right to confront authority. But the use of domestic terrorism charges in Atlanta marks a new threshold. To many Americans, it's a long overdue step to take a firmer stand against political unrest and violence. But to others, the move speaks to a dangerous push to silence dissent and criminalize protest.
 
In that way, the clash over "Cop City" is adding new questions to the national conversation: Where should the lines of terrorism be drawn in the name of public safety, and what does justice look like?
The fact "that all sorts of actions could be terrorism really speaks to the leaky nature of it as an idea," says Dana Williams, a sociologist at California State University, Chico and co-author of "Anarchy & Society." "Is the purpose to simply get people off the street who are a danger to public safety? Is it to punish people for very specific acts for which there is documentary evidence? Or is it to sort of suppress a movement that has some traction, where applying the word 'terrorist' helps to coat people's perception of it?"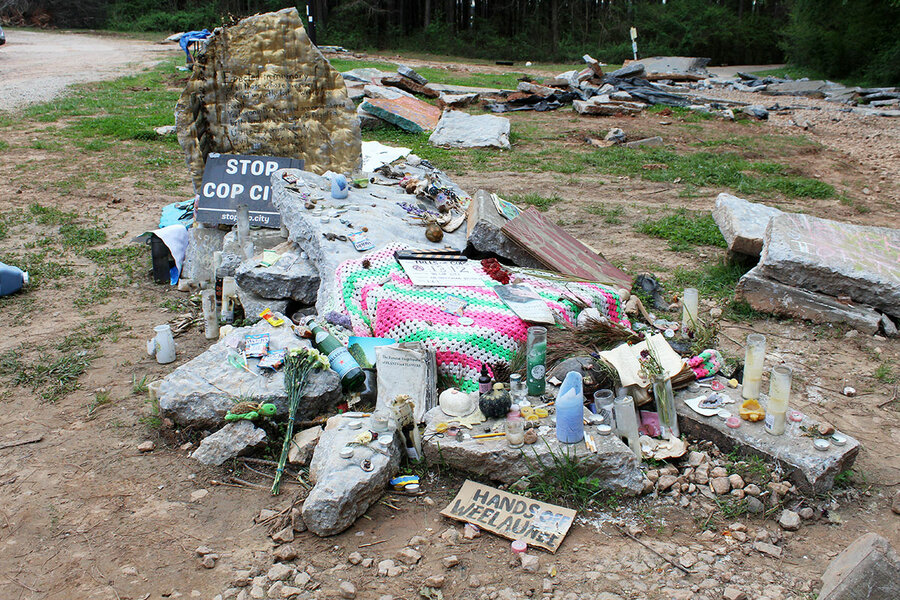 Patrik Jonsson/The Christian Science Monitor
A memorial to Manuel Esteban Paez Terán, an environmental activist killed in January by police, rests near a contested forest, March 7, 2023. The city of Atlanta plans to build a police training center in the forest. Police say Mr. Terán fired first.
What happened in Atlanta
The latest domestic terrorism charges arose from events that happened on Sunday. Police released a video that showed a crowd of people emerging from the woods and spreading out into a fenced-off clearing. As the group advanced, a pair of police officers retreated behind a gate. They ducked as fireworks popped near them. Soon, construction equipment on the scene was burning.
Atlanta Police Department spokesperson Sgt. John Chafee said in a statement that those arrested "used the cover of a peaceful protest … to conduct a coordinated attack on construction equipment and police officers."
 
They join 19 others facing terrorism charges from previous incidents in the ongoing campaign. It's the largest domestic terrorism sweep since a group of animal-liberation activists were indicted on terror charges in the 2000s.
 
The charges come amid a growth in political violence in the United States. All but eight U.S. states experienced at least one incident of domestic terrorism between 2010 and 2021, according to the Government Accountability Office, with the phenomenon growing by 357% since 2013. The FBI defines domestic terrorism as "violent, criminal acts committed by individuals and/or groups to further ideological goals stemming from domestic influences, such as those of a political, religious, social, racial, or environmental nature."
 
Two percent of these attacks in 2019 occurred at demonstrations, the Center for Strategic and International Studies reported. The total committed by left-wing extremists grew almost 20 percentage points between 2020 and 2021 as demonstrations in cities like Portland, Oregon; Seattle; and Atlanta grew violent.
 
Georgia passed its domestic terror law after the 2015 killing of nine Black church parishioners in Charleston, South Carolina. New York used its law for the first time to boost charges against the racist-inspired shooter in Buffalo in 2022.
 
"More and more, state prosecutors are using domestic terrorism statutes for different crimes being committed, whether they're extremist-related or school shootings," says Javed Ali, a former Department of Homeland Security counterterrorism official.
When police and prosecutors are given new tools, they generally use them, adds Patrick Keenan, a professor at the University of Illinois College of Law in Champaign.
Laws intended to deal with international terrorism like 9/11 "are used more often in ordinary domestic crimes … [so] they become regularized, normalized," he says. "There is a risk to attaching the wrong label to crime."
A view inside the protest camp
In Atlanta, one's view of the charges often comes down to one's views of the protesters.
 
At the South River trailhead along Constitution Road, it looks as if a zombie apocalypse just went down. Large piles of concrete indicate a torn-up bike path.
 
Amid the tangle of concrete and steel, there is a welcome tent with a young attendant. A drawing shows a burning police car, upside down, surrounded by the words "Resistance is love."
Patrik Jonsson/The Christian Science Monitor
A drawing by police abolitionists occupying an Atlanta forest points the way to a path to the forest, March 7, 2023. Dozens of protesters have been arrested and charged with state domestic terrorism charges in recent weeks.
There is a memorial to "Tortuguita," the nickname of Manuel Esteban Paez Terán, the slain activist. Police shot and killed him during a Jan. 18 operation to clear the site. They say Mr. Terán shot at police and they returned fire. Protesters contest that version of events. The Georgia Bureau of Investigation has begun a probe.
 
One young person with red hair festooned with ponytails listens wearily to a reporter's question and then demurs an answer: "I just need to sit here and eat my chili, cool with you?"
 
The first defenders moved into the forest nearly two years ago. They set up camp in trees, and attempts by authorities to clear the camps have met with pushback.
"This forest is at the heart of it all," says Annie, the activist.
In December, a prosecutor said a defendant inside a makeshift treehouse called for backup as police approached, and other activists appeared. She used a knife to cut a support rope for an arborist trying to dismantle her treehouse.
 
Police used pepper spray balls to try to shake protesters out of the trees. They were met with thrown rocks and bottles.
"If you use violence to basically get a policy changed, that is domestic terrorism," the prosecutor said. "This isn't just a bunch of kids playing in the woods."
Ben, one of the activists, sees corporate interests holding voters by the scruff of the neck. The new police center is being funded by the privately funded Atlanta Police Foundation, which has raised suspicions about the motivations behind the new center.
 
"None of these terrorism charges are going to stick," says Ben, who didn't give his last name out of concerns about arrests and harassment. "This is about dividing us and suppressing us. They're trying to scare us. It's not going to work."
The Center for Strategic and International Studies found that far-right extremists waged the most attacks (49%) in 2021, but attacks by anarchists and other far-left extremists grew from 23% in 2020 to 40% in 2021. Right-wing extremists are far more likely to use heavier weapons and take actions that end in fatalities; anarchists, by and large, don't believe that destruction of property equals violence.
But, notes Mr. Ali, the former homeland security official: "You don't have to kill anyone in order to conduct terrorism."
Patrik Jonsson/The Christian Science Monitor
Behind a photo of slain "forest defender" Manuel Esteban Paez Terán, several "Cop City" protesters turn their backs on a photographer as they welcome new recruits to a forest that has been occupied by activists for nearly two years. Authorities have stepped up charges against activists, some of whom self-define as anarchists.
What measuring stick for terrorism?
The most recent incident in Atlanta "wasn't just a peaceful protest. They turned toward violent action; it was planned and organized and choreographed to go a certain way," says Mr. Ali, now a professor at the University of Michigan in Ann Arbor. "Yes, far-left extremism looks different than far-right stuff, but it doesn't mean that the threat is zero in this country. You can't be biased from a law enforcement or a domestic security perspective. If it looks like a duck, walks like a duck, it's probably a duck."
Yet others see a double standard. "When we talk about political violence, we also leave out … police violence," says Mike German, a former FBI agent who infiltrated right-wing extremist groups in the 1990s and is now a fellow at the Brennan Center for Justice.
In 2021, Mr. German testified to Congress that research shows how police actions incited riots during racial justice protests. He said law enforcement widely sees right-wing activists as "more mainstream" than left-wing ones. In his testimony, he pointed to instances of police declining to prosecute white supremacist demonstrators while throwing the book at anti-fascists.
Ironically, the idea for the new police training center came about after the death of George Floyd, driven by the call for reform and better policing. But protesters worry that the facility will instead hone abusive crowd-control tactics. City officials have said few trees will have to be removed, and any that are will be replaced with plantings elsewhere.
Yet even as police brace for more conflict, lawmakers have begun to rethink the project. A firing range has already been pushed back from a residential area. Last week, the city announced a new citizen task force to further explore the idea.
In the meantime, both groups have only dug in deeper.
At the South River trailhead, a young female activist says she understands why activists are drawn to these woods – and why they vow to hold their ground.
"Everything that's going on in this country can be found right here," she says.
 
She urges a visitor to walk around the area to check out banners and camps, but to please respect activists' wish to not be photographed, given their designation as violent extremists.
 
"Otherwise, just enjoy the forest," she says, eyes crinkling above a mask.