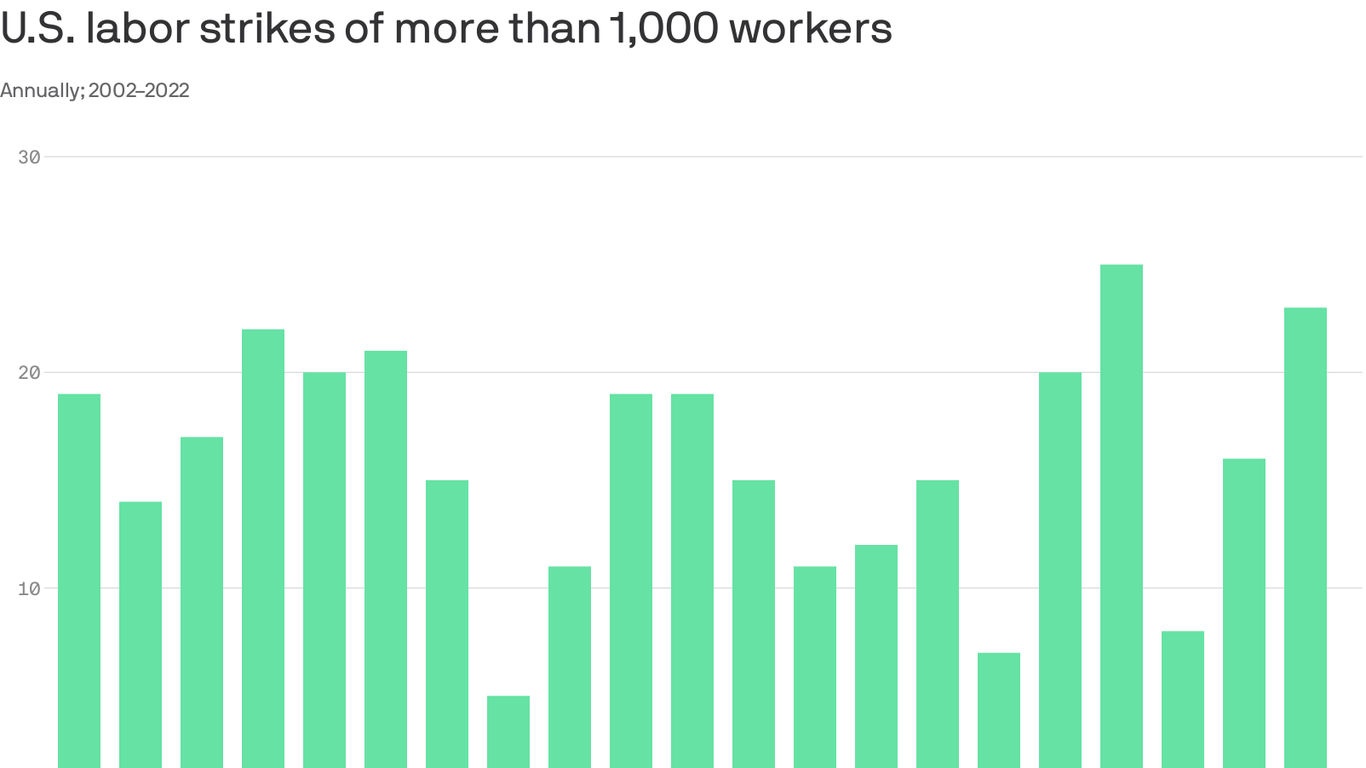 The number of major worker strikes in the U.S. rose to its second highest level in two decades in 2022, per a government report out Wednesday.
Why it matters: The strength of the labor market and the rise in popularity of unions drove up the numbers. COVID-era issues, like short-staffing, burnout and pay that didn't keep up with inflation, also pushed workers to the picket lines.
By the numbers: These aren't the blue-collar factory strikes of yore. There were 23 major work stoppages last year, involving a total of 120,600 workers, and 98% of the folks work in the service sector, specifically healthcare and education.
The biggest strike of 2022 was the 40-day walkout of 48,000 graduate students at the University of California, followed by 15,000 nurses who walked out in Minnesota.
Context: The Bureau of Labor Statistics, which published the report, only tracks work stoppages that involve more than 1,000 workers — and that leaves out a lot of strikes.
Per Cornell's ILR Labor Action Tracker, which examines the whole universe of work stoppages, 224,000 workers walked out in 2022 across 417 strikes and seven lockouts — an increase of more than 50% from 2021.
The smaller strikes involved more people in food services. 131 work stoppages involved Starbucks workers or fast-food workers organizing with the Fight for $15 campaign, Cornell reports.
Zoom out: Common demands from striking workers included higher pay, followed by health care, health and safety issues and staffing, according to Cornell's database.
The nurses in Minnesota reached an agreement that gives them an 18% wage increase over three years, and a say in staffing levels.
The University of California academics who went on strike won pay increases, including some as high as 55%, as well as better childcare and health benefits.
Yes, but: The numbers are small compared to strike activity in the last century.
More than 1 million workers went on strike in 1979. But after that, President Ronald Reagan took the White House and famously proceeded to deliver a major blow to the labor movement when he fired striking air traffic controllers in 1981.