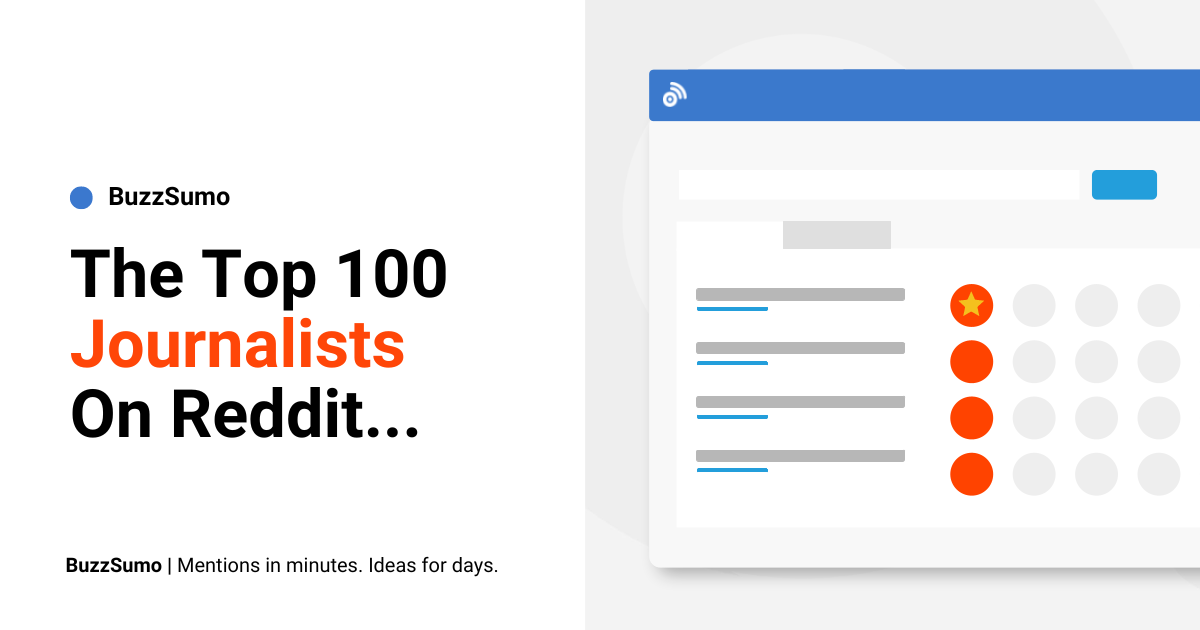 Journalists amassing engagement on Reddit is a testament to their ability to craft stories, conduct painstaking research, and be part of a wider conversation. 
Reddit is a melting pot of ideas, opinions, and discussions around any topic you can imagine. 
And for that very reason, we wanted to see the journalists that garnered the most engagement on Reddit in 2022. We jumped into BuzzSumo's archive of 9 billion articles and 300 trillion engagements to get a rundown of the top 100.  
If you've ever questioned the power of journalist content, once you see the amount of engagement these stories amassed (on Reddit alone), you'll never do so again.
1 Dan Mangan: Politics Reporter for CNBC 
Follow Dan Magan on Twitter to keep up with his latest work @_DanMangan.
You can find Joshua on Twitter here @mrjoshz.
3 Kevin Breuninger: National Politics Reporter for CNBC
Stay updated with Kevin's Coverage of US politics news by following him on Twitter @KevinWilliamB.
4 Nick Mordowanec: Politics Reporter for Newsweek
Meet Nick Mordowanec, an accomplished politics reporter for Newsweek based in Michigan. With a passion for both domestic and international politics and governmental policies, he has a keen eye for breaking news stories that shape our world. Nick's experience is extensive, having covered a wide range of topics including local, state, and federal government elections.
Over 2022 Nick's most engaged articles on Reddit covered Vladimir Putin's Black Belt Revoked by International Taekwondo Organization, with 226,148 Reddit engagements. Nick's total Reddit engagements hit 569,257 over the course of 2022.
5 Joseph Zeballos-Roig: Domestic Policy & Politics Reporter for Semafor
Joseph Zeballos-Roig is a policy reporter based in New York who covers domestic policy, with a particular focus on economics and healthcare. His passion for political and policy debates is grounded in a desire to provide context, and include a range of voices and perspectives in his reporting.
Joseph has covered a broad range of news topics, including politics, campaigns, technology, foreign affairs, race, and domestic policy making.
Throughout 2022 Joseph amassed 487,953 engagements on Reddit across all of his articles. Nearly half of these engagements came from this article 'The US is moving one step closer to letting Americans file their taxes online for free directly to the IRS, cutting out private companies like TurboTax and H&R Block'.
6 Dan Carson: Senior Editor of Chron
Dan Carson is a Senior Editor at Chron, a Houston-based news and media company. With over a decade of experience in journalism, he is an accomplished writer and editor with expertise in a wide range of topics, including sports, entertainment, culture, and current events.
Dan's top Reddit engagement came from his article 'Pregnant Texas woman driving in HOV lane told police her unborn child counted as a passenger'. This article appeared on the r/news and r/nottheonion subreddits with 25.8m and 22.1 million readers respectively. It garnered 252,287 engagements as part of Dan's total 481,889 for the year.
7 Allan Smith: Political Reporter for NBC News
Allan Smith is a seasoned political reporter, currently working for NBC News. With years of experience in the field, he has become a respected voice in the world of political journalism.Before joining NBC News, Allan honed his skills as a reporter and writer for various news organizations. He has worked for several publications, including NBC News, Business Insider, and more. 
At NBC News, Allan covers a wide range of political stories, from breaking news to in-depth analysis. He has developed a reputation for his insightful reporting and ability to break stories that others miss. His sources come from all corners of the political spectrum, giving him a unique perspective on the issues that shape our world.
Allan achieved 245,062 Reddit engagements from a single article covering John Fetterman's victory in the senate election in 2022 and amassed 480,505 engagements on Reddit overall.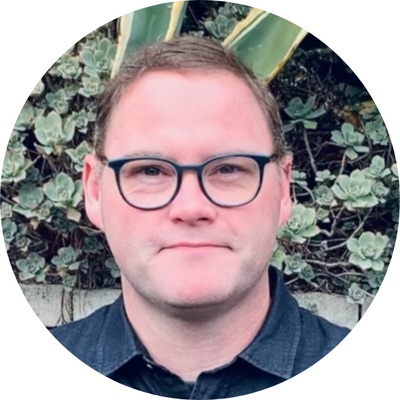 Graeme Massie is a reporter and editor at The Independent, covering US news, tech, and features. Graeme came to The Independent after 15 years as a reporter at Splash News in New York and California. At The Independent, Graeme covers a range of topics, including breaking news, politics, business, and tech.
While covering breaking US politics news, Graeme wrote the article that landed the most Reddit engagement of any article he'd written: 'FBI were looking for 'classified nuclear documents' during search of Trumps Mar-a-Lago home, reports say'. This article amassed a total of 101,900 engagements on Reddit. Graeme's total Reddit engagements for the year hit 450,702 in 2022
Keep tabs on Graeme's articles and updates by following him on Twitter @graemekmassie.
9 Alix Culbertson: Political Reporter for Sky News
Alix Culbertson is a political reporter for Sky News, with a wealth of experience in covering important political stories across the UK. Alix has been a journalist for over a decade, covering a range of political topics, including Brexit and its impact on the UK and the EU, the coronavirus pandemic, and the government's response.
Alix's most engagement on Reddit in 2022 came from her coverage of Liz Truss' resignation in her article titled 'Liz Truss resigns – and will become shortest-serving prime minister in British history'. This article was engaged with 203,206 times on Reddit, making Alix's total Reddit engagements 448,247 in 2022. 
For more information on Alix's updates and recent stories follow her Twitter @alixclubertso
Mark Sherman is a distinguished legal affairs writer and reporter currently working for the Associated Press, a news agency that provides news to thousands of media outlets around the world. With over two decades of experience covering legal issues, Mark is known for his comprehensive and insightful reporting on some of the most important legal cases of our time.
At the Associated Press, Mark focuses on legal issues that impact the United States and the world. He has covered a wide range of legal topics, including the Supreme Court, civil rights, criminal justice, and intellectual property. In 2022 Mark's article titled 'Supreme Court overturns Roe v. Wade; states can ban abortion' garnered 205,905 Reddit engagements making his total 392,011 for the year. 
Positions 11-100 
We couldn't stop at just 10, when every one of these journalists got over 100,000 engagements on Reddit last year. Here is the full list of the remaining, incredible writers who made our top 100, including their Twitter handles, and current organizations.
Which publications do the top Reddit journalists write for?
We did a bit more digging into the journalist data we pulled from the Content Analyzer, and discovered the top 20 publications generating the most Reddit engagements.
Are you a budding journalist wanting to replicate the success of the writers you see above? 
If you write for these publications, you're most likely to win big on Reddit.
To create content that drives big engagement, learn from the very best. Just head to BuzzSumo's Journalist Profiles to understand a journalist's beat, most engaging content, and top publications.
Methodology: 
To put this list together, we used BuzzSumo's Content Analyzer and found the articles and journalists who generated the most engagements on Reddit between January 1st to December 31st 2022. 
Then we dived into the Journalist Profiles in BuzzSumo to research each of our top journalist's: 
Twitter page
Organization 
Recent articles 
Topics covered
So, that's our 2022 top 100 journalist list by Reddit Engagement. 
Want to analyze your articles, track Reddit engagements, social shares, evergreen scores, and more?
 Sign up for a free 30-Day trial with BuzzSumo to gain access to our Content Analyzer and 600K Journalist Pages.