Davis, 58, is accused of sexually assaulting a child between 2012 and 2017. The allegations do not stem from his role as a children's fastball and football coach.
Author of the article:
Bre McAdam  •  Saskatoon StarPhoenix
Published Feb 22, 2023  •  Last updated 4 hours ago  •  5 minute read
Join the conversation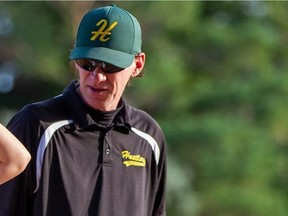 Warning: Story contains sexual assault allegations involving a child 
REGISTER TO UNLOCK MORE ARTICLES
Create an account or sign in to continue with your reading experience.
Access articles from across Canada with one account
Share your thoughts and join the conversation in the comments
Enjoy additional articles per month
Get email updates from your favourite authors
A 16-year-old girl says a longtime Saskatoon football and fastball coach sexually assaulted her twice while she slept over at his house as a child.
We deliver the local news you need in these turbulent times on weekdays at 3 p.m.
By clicking on the sign up button you consent to receive the above newsletter from Postmedia Network Inc. You may unsubscribe any time by clicking on the unsubscribe link at the bottom of our emails or any newsletter. Postmedia Network Inc. | 365 Bloor Street East, Toronto, Ontario, M4W 3L4 | 416-383-2300
The girl testified Wednesday by video from a separate room in Saskatoon Court of King's Bench at the judge-alone trial of Ricky Carl David Davis.
Davis, 58, pleaded not guilty to one count of sexual assault between Feb. 1, 2012 and Dec. 31, 2017, when the complainant was between five and nine years old.
He was arrested and charged in 2021 after the allegations were reported to police.
Court heard Davis coached boys' minor football, hockey and competitive girls' fastball. He was a fastball league official — most recently with the Hustlers zone — and was coaching children during the alleged assault period and when the allegation was made. The Saskatoon Minor Softball League suspended him from his roles and responsibilities after he was charged.
The allegations do not relate to his role as a coach.
The StarPhoenix is not publishing how the complainant and Davis knew each other to protect the girl's identity, which is under a court-ordered publication ban. 
Answering questions from Crown prosecutor Sheryl Fillo, the girl said she had many sleepovers at Davis's house, sometimes while his then-wife was working a night shift. She said she often slept on a mattress in Davis's office, which had a desk, shelves and football gear.
She described two incidents in which she remembered waking up to Davis sexually assaulting her while she was sleeping in his office. She said she either passed out or went back to sleep both times.
The girl testified that her first memory was of Davis licking and kissing her vagina. She told Fillo she saw his head between her legs and felt his hands on her legs. Her pants were off, she said.
During another sleepover, she said she awoke to the sound of scissors cutting off her tank top strap, and described feeling the cold metal against her shoulder, followed by Davis's lips on her shoulder and breast.
She testified that in that incident, she fell asleep wearing a yellow tank top and woke up wearing a magenta T-shirt. She said she remembered being confused about waking up in a different shirt.
The girl told court she doesn't remember the order in which the assaults happened, or exactly when they happened. She said she knows she tried refusing to go to Davis's house in Grade 2, and stopped sleeping over when she moved to a different school in Grade 3.
She said she went to police after the memories surfaced in 2020. She first told a friend, wrote about it in a journal and eventually told her mother, she said.
During cross-examination, legal aid lawyer Julian Nahachewsky asked the girl if she ever made eye contact with Davis during the alleged incidents in the middle of the night.
"He wasn't looking at my face," she said, adding she saw the top of his head and his hands on her legs, but did not hear him speak.
"If you never saw Mr. Davis's face, how do you know it was him?" Nahachewsky asked.
"I could tell it was a male, and an adult. I recognized his hands," she said. She then added that she smelled his cologne, something she also mentioned during examination in chief.
Nahachewsky noted that she did not mention the cologne in her police statement or at her preliminary hearing. The girl said no one had asked her about it before.
When asked why she did not mention Davis kissing her shoulder and breast during the preliminary hearing, she said she might not have remembered it at the time, but she does now.
The girl testified the tank top Davis cut off was yellow, but had told police it was pink. During re-examination, she told Fillo she must have mixed it up with the magenta shirt she woke up wearing.
Nahachewsky pointed out parts of her statement where she described passing out just as Davis started assaulting her. Nahachewsky said this was inconsistent with her testimony that she was awake for about 30 seconds to a minute before passing out. She replied that she's unsure exactly how long she was awake, but it was long enough to register what was happening.
Davis's estranged wife testified on Wednesday that Davis had an office with an air mattress in it. She said he usually slept in the office or on the couch while they were separated but living together in 2016 and 2017.
When the girl came over, she either slept in the living room or in the office, the woman testified, adding she wouldn't have known where the girl was sleeping when she was working night shifts.
"She was there a lot. I would say we had her at least a minimum of 10 days a month," the woman said.
She told court there was a deadbolt below the doorknob of the spare bedroom that wasn't there when they moved in. She said she only noticed it after Davis moved out in 2017 because a bookshelf had been blocking it.
The woman told Nahachewsky that she never saw the girl leave the office in the morning and never saw Davis sexually assault her.
The Crown closed its case Wednesday afternoon. Nahachewsky said he will decide Thursday morning whether he will call evidence.
bmcadam@postmedia.com
twitter.com/breezybremc
Saskatoon coach charged with child sex assault committed to stand trial

Fastball coach Ricky Davis pleads not guilty to child sex assault charge

Saskatoon fastball coach accused of sexually abusing child suspended from softball association
The news seems to be flying at us faster all the time. From COVID-19 updates to politics and crime and everything in between, it can be hard to keep up. With that in mind, the Saskatoon StarPhoenix has created an Afternoon Headlines newsletter that can be delivered daily to your inbox to help make sure you are up to date with the most vital news of the day. Click here to subscribe.