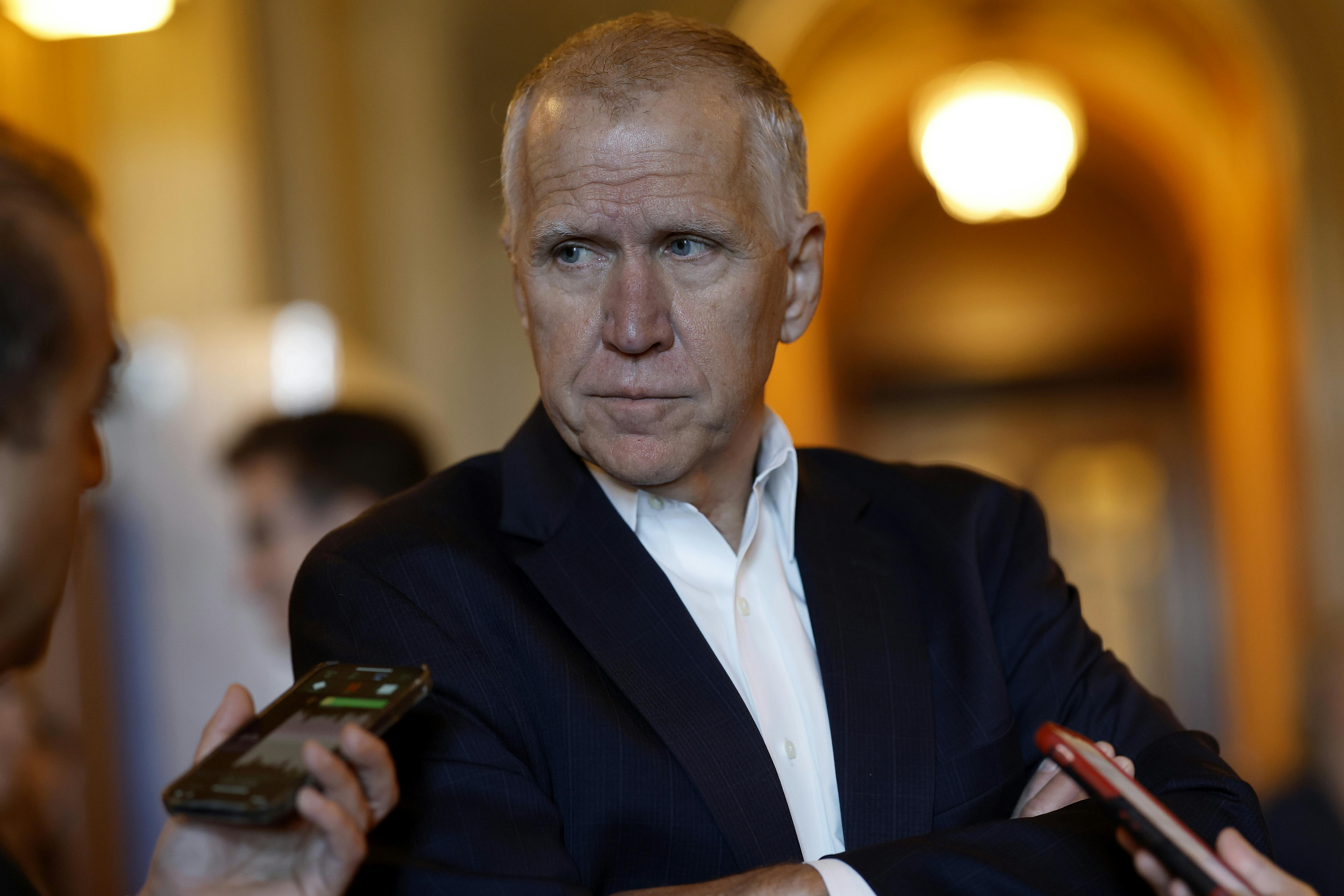 As Republicans settle into their control over the House of Representatives, the right's crusade against ESG—an umbrella term for a suite of strategies corporations use to account for environmental, social, and governance factors—is going national. The House Financial Services Committee has launched an ESG working group to "combat the threat to our capital markets posed by those on the far-left." Forty-nine Republican Senators, joined by Democrat Joe Manchin, have signed on to a resolution pushing back against a recent Department of Labor ruling that allows federal pension funds to consider ESG factors in their investment decisions, including whether the effects of climate change might pose a risk to portfolios. Twenty-five state attorneys general are also now suing the Department of Labor over the rule, which went into effect this week.
Resolution co-sponsor Thom Tillis said allowing pension funds to consider sustainability in investment "will financially punish millions of Americans by putting their retirement savings at risk." Manchin similarly called it "irresponsible of the Biden Administration to jeopardize retirement savings for more than 150 million Americans for purely political purposes."
Recent analyses suggest the opposite is true: It's the decision to forbid sustainability considerations—and blacklist companies who do—that could hurt retirement portfolios. A fiscal impact statement for Indiana House Bill 1008, for example—a proposal which would require the state treasurer to cut ties with financial firms that "further social, political, or ideological interests," and limit active fund management—could cost retirees nearly $7 billion in investment returns over the next decade. That, the report states, is because the bill would bar the Indiana State Public Retirement System, or INPRS, from "using outside investment managers who pursue or market ESG investments for other clients" and "limit the potential for active management of INPRS funds." HB 1008 is broadly similar to a series of bills passed and introduced in a number of Republican-controlled states over the last two years to restrict ESG and divest from banks and asset managers deemed to be boycotting energy companies.
"Such a decrease would reduce the estimated annual return on investment for defined benefit pensions managed by INPRS from 6.25% to 5.05%. This would likely result in increased expenditures for state employers for pension contributions," Indiana's Office of Fiscal and Management Analysis reported last week. "Large decreases in investment earnings," the office stated, would require larger contributions from employers and state appropriations toward pension obligations. "The bill may effectively prohibit investment in private markets (e.g., private equity) as well as the use of active public managers." The report notes that HB 1008's mandates regarding proxy voting—how funds use their shares in companies to vote on corporate strategies and board composition—would cost pension funds an additional $550,000 per year for additional staffing and infrastructure, as such decisions are typically handled by outside firms.
The Indiana Chamber of Commerce has come out against the HB 1008. Republicans, however, increasingly see the Chamber of Commerce as yet another pawn of "woke capital." House Republicans may investigate the Chamber over its embrace of ESG, while House Speaker Kevin McCarthy and Republican House Majority Leader Steve Scalise both refuse to meet with the business lobby.
Indiana's report isn't the only one that undercuts the anti-ESG crusade's claim to fiscal responsibility. A study last year from researchers at the University of Pennsylvania and Fed Board of Governors found that the Texas legislature's move to cut ties with allegedly "woke" financial institutions will cost the state up to $500 million. As a result of those measures, major banks that underwrite municipal bonds stopped working with local governments in Texas, keen to avoid a hassle over their positions on ESG. Governments then had to seek out smaller, more expensive firms to underwrite bond issuances for things like water treatment and high school gyms.
Despite evidence that anti-ESG measures can be costly, their stalwarts maintain that adhering to right-wing principles means maximizing profits. "Millions of hard-working Ohioans spend decades sacrificing and saving for the chance to retire with dignity," Senate anti-ESG resolution co-sponsor and newly elected Ohio Senator J.D. Vance told the Ohio Star. "They deserve nothing less than the maximum rate of return."
Vance attended Yale Law School with Woke Inc. author Vivek Ramaswamy, who has blanketed the right-wing speaker circuit proselytizing against ESG. The hedge fund Vance founded in 2019, Narya Capital, was an earlier investor in Ramaswamy's anti-woke asset management firm, Strive, which has been pitching its services to red state financial officers (e.g., elected comptrollers and treasurers) and pension boards. In November, Vance told Breitbart that ESG is "basically a massive racket to enrich Wall Street and enrich the financial sector of the country."
Republicans nearly rioted this week when President Biden, during his State of the Union address, suggested that the GOP wants to do away with Social Security. They objected to the president pointing this out in part because cutting the wildly popular program would hurt some of their most reliable voters: seniors. Their expanding battle against all things ESG may well do the same.