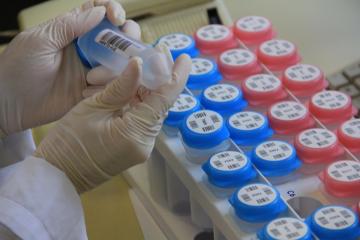 Nairobi – Kenya piloted a community-based cervical cancer screening in 2021 using the human papillomavirus (HPV) DNA testing to explore ways of effectively scaling up this type of testing across the country. World Health Organization (WHO) recommends the HPV DNA testing as it detects the high-risk strains of the human papilloma virus unlike tests that rely on visual inspection. Seventeen per cent of the more than 10 000 women screened in the month-long pilot phase tested positive for HPV. Nearly 90% of those who tested positive received treatment.
Dr Mary Nyangasi, who heads the National Cancer Control Programme Division at Kenya's Ministry of Health, discusses the outcome of the pilot community-based screening programme and the feasibility of rolling out HPV testing in the public sector.
Why is it important to decentralize cancer screening?
Traditionally, low screening coverage has hampered uptake of screening programmes in Kenya where stigma, lack of awareness, sociocultural barriers and opportunistic screening are the norm. The policy shift towards integration of screening services in health facilities has changed this with requirement that cervical cancer screening be provided for in-facility service charters. There are slightly over 12 000 health facilities in Kenya, 5770 of which are public facilities. However, there has been no HPV testing in public facilities in Kenya. Over 90% of facilities use visual inspection methods with the rest using pap smear which is limited by availability and capacity of skilled workforce and necessary infrastructure. Apart from the existent sociocultural perceptions, the health system is generally constrained by limited health workforce with various competing priorities and challenges in availability of requisite infrastructure for screening generally limiting access to cancer screening services within the primary care setting. HPV-based screening therefore provides an opportunity to circumvent this by enabling a community-based, self-sampling approach to screening and reaching more women in the privacy of their homes.
How can cervical cancer screening using HPV DNA method be improved?
While the average testing for HPV DNA testing turn-around time was two weeks, it took up to a month or longer to relay results to patients and link them to further management. This can be improved by having systems that enable relaying of results to patients through mobile text message so that patients are notified as soon as the results are ready.
Though the overall coverage was higher than the national average, it was limited by availability of commodities; therefore addressing procurement inefficiencies to ensure regular availability of all necessary HPV screening commodities is necessary for an effective HPV-based cervical cancer screening program rollout. In addition, while linkage to care was also higher than the national average (75% vs. 26% for 2021), it is still lower than the optimal level required for attainment of elimination target of 90 % by 2030, especially since this project targeted a stable population, which had regular interaction with the healthcare system; that is, women living with HIV attending the comprehensive care clinics. It should be noted that about a quarter of all the HPV-positive women were not triaged, and therefore an effective fail-safe mechanism to track and trace such women is necessary. The establishment of a national screening database supported either by an electronic medical records system platform or a detailed paper-based client details capture form can improve tracking of screened clients.
The project also identified significant under-reporting. This emphasizes the need to strengthen our data management systems for effective monitoring of screened women right from the facility where establishment of quality improvement teams to monitor data with action on key areas as well as performance-based incentives may improve reporting rates. Transmission of cancer screening data from the facility to Kenya Health Information System can also be improved through continuous mentorship of both clinical as well as health records teams on utility of surveillance data right from the facility level. We appreciate the support of WHO and Clinton Health Access Initiative in enabling the successful implementation of this programme. This demonstrates the importance of partnerships and collaborations in supporting scale up of such initiatives.
How can HPV screening be scaled up?
Based on the findings of this pilot as well as that of the economic evaluation of women's cancers conducted in collaboration with the World Bank, there is an opportunity to include HPV DNA testing at 35 years and then again at 45 years in the universal health coverage essential benefit package currently under development so that this screening method is captured as a basic essential service that is to be provided at any level of care to women. It will, however, take the concerted efforts amongst all key stakeholders to make this work without interruption of services.
By establishing systems for HPV screening, we can leverage on these same systems for screening of colorectal cancers and other cancers such as breast and prostate cancer. For example, health workers can be sensitized to conduct clinical breast exam during every cervical cancer screening encounters so that we minimize lost opportunities for checking women for breast cancer as well.