You are here: Home/ News/ Dogecoin Soars To New Heights: 40% Increase As Whale Transactions Skyrocket
Dogecoin, the meme-inspired cryptocurrency, is making headlines once again with its recent surge in activity. According to Santiment, a leading crypto analytics firm, Dogecoin saw its highest whale transactions of the year on January 31st, marking a major break-out for the coin.
The past few months have been highly positive for Dogecoin, with the coin experiencing a 40% increase since December 29th.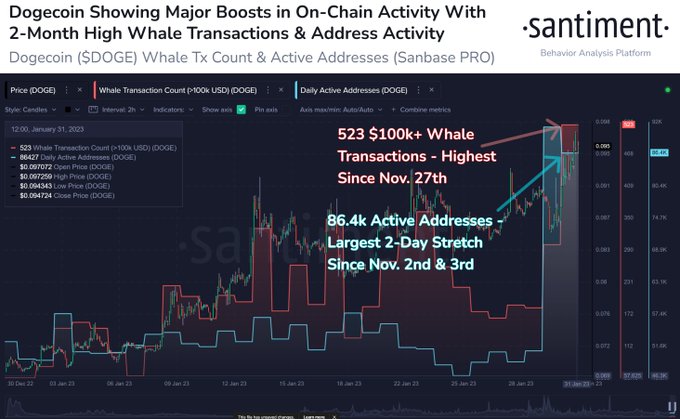 This surge can be attributed to several key factors, including major transactions by big players in the market, referred to as "whales." These transactions have had a major impact on the coin market and have driven up demand, leading to a significant increase in price.
According to Santiment's tweet, there was a spike in the presence of 523 $100k+ whale transactions, the highest since November 27th. Additionally, the coin is back above $0.095 for the first time since December 10th.
Dogecoin On-Chain Metrics Soar To Two Months High
86.4k active addresses have been recorded, marking the largest two-day stretch since November 2nd and 3rd. These metrics indicate that there has been a significant influx of interest in the coin, with more and more people choosing to invest in the meme cryptocurrency. 
Address activity for Dogecoin has spiked, indicating increased interest and adoption of the cryptocurrency. This increased demand is also contributing to the recent surge in Dogecoin's value.
The meme-inspired nature of Dogecoin has led some experts to question its long-term viability. While its popularity may be driving its value in the short term, it remains to be seen if it will be able to sustain this success over the long term.
While the recent surge in Dogecoin's value is certainly an exciting development for investors, the future of this polarizing cryptocurrency remains uncertain. However, it's worth keeping an eye on its performance in the coming weeks.
However, despite its playful origins, the coin has proven to be a serious player in the cryptocurrency market. The coin has seen significant growth recently and continues to attract new investors and traders looking to capitalize on its potential.
According to the data from CoinMarketcap's data, the coin is currently trading at $0.09214, with a 10% rise in the weekly chart. Additionally, the coin has seen a growth of about 31.4% in the last 30 days.
Related Reading | Ethereum Supply Takes a Dip: Deflationary Value of $16 Million In January