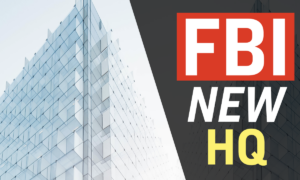 The federal government is already in the process of building a new headquarters for the FBI, and this new complex will be at least twice the size of the Pentagon.
There are two reasons for changing the location of the FBI building, one of which is that the FBI has grown too big, even for its current building. Out of about 35,000 of the FBI's current employees, only a few thousand actively work the J. Edgar Hoover Building, leaving thousands of FBI agents to work at about a dozen other locations that are leased by the government in and around Washington, D.C. This has cost about $150 million a year.
The second issue has to do with the fact that the J. Edgar Hoover building takes up two square blocks of precious Washington, D.C., real estate. And so, by getting rid of it, the city plans to turn the site into housing units and retail locations, as well as to get rid of the eye sore that is the building itself.
Episode Resources:
🔵 AMAC:
🔵 FBI HQ:
🔵 GSA Plan:
🔵 FBI History: