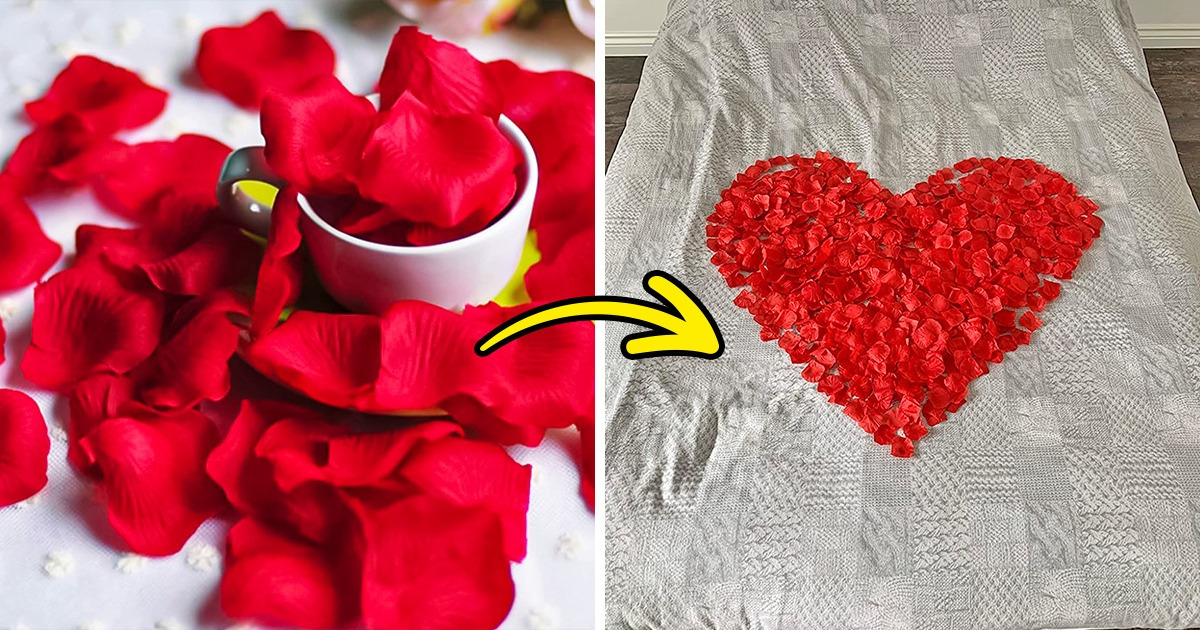 If our homes are our castles, then our bedrooms are our little sanctuaries where we can hide from the noisy world and recharge our batteries. To make staying in your bedroom even more comfortable, Amazon sellers offer quite a few items that will help you create a cozy atmosphere in the place where you sleep. A sleeved blanket will gently hug you and warm you up, while candles and rose petals will fill your room with romantic vibes.
1. Saint Valentine's Day is coming and if you are planning to create a romantic atmosphere in your bedroom, these rose petals may come in handy. These artificial petals are waterproof, and it's easy to create any shape or message with their help. The product simulates natural rose petals and recreates their texture.
The package contains 1200 rose petals. There are a variety of colors to choose from, including red, pink, white, and blue.
Promising review: It is easy to separate the petals and form a symbol or message. I used the petals to create a heart shape with my husband's age inside it for his birthday surprise. It was a lovely display of romance, and the petals definitely spiced up the evening. @JC
BUY NOW
2. These tiny but long-lasting candles can become a nice addition to the rose petals for your romantic evening. Each candle can burn for up to 8 hours, which is perfect for long winter nights. Placed in a reservoir with water, they can be used as floating decorations.
You can choose between a package of 50 or 100 candles.
Promising review: Not only are these tea light candles a fantastic value for money, but they also burn for a full 8 hours and do not smoke when going out. I would honestly 100 percent recommend buying these tea light candles, as every other brand I have purchased has been a total waste of money. The candles burn until no wax is left. @Nicj1
BUY NOW
3. Add some elegance and chic to your bedroom with these satin pillowcases. They create less friction and help your hair get less tangled than with cotton pillowcases. Moreover, they won't create creases or lines on your face while you sleep. The envelope closure prevents pillows from sliding out of these pillowcases.
There's a big variety of colors to choose from.
Promising review: I was looking for pillowcases that would help retain moisture in my hair and face. These do exactly that! I recommend this item. Wash them in a wash bag to avoid pulls. I recommend this item. @sarah garvey
BUY NOW
4. Apart from pillowcases, Amazon also offers these hollow-fiber cushion inserts. The inserts are vacuum packed, so they arrive flat, but just give them some time, and they will regain their fluffy shape. The high-quality polyester filling provides comfort and support.
Machine washing is not recommended.
Promising review: After spending ages trying to find pillows that didn't cost an arm and a leg but were not flimsy, that were not the wrong size when they arrived but fit my purchased pillowcases — success, I finally found them. They came in a box, in a zipped hard plastic bag, and then vacuum-sealed in a bag with enough bagging to cut into without going near the cushion. The correct size fit my pillowcases perfectly. Perfect. @Lorna Roberts
BUY NOW
5. You probably won't want to leave your bed with this cozy, sleeved blanket. The blanket can be easily folded into a pillow when you are not wearing it, and it will not occupy much space. Sleeves and foot pockets will allow you to relax and recharge your batteries while feeling warm and cozy.
The sleeved blanket comes in one size and several colors.
Promising review: Was originally looking for a heated throw, but reviews put me off, I think this wearable blanket is an excellent alternative. Very cozy, I wear it the right way around on the couch, but if I'm working at my desk, I turn it around, and there's still enough to cover my legs. This is my second. The dog stole the first one, so now we're both happy. Really easy to fold into a pillow. @Eeviettocs
BUY NOW
6. This quilted, fitted mattress topper will protect your bed and will stay in place thanks to its elastic edge. The cover is machine-washable and can be tumble-dried on a low-heat setting. It looks stylish and elegant as well and can be a perfect choice if you're looking for a soft, breathable, and high-quality mattress topper.
Various sizes and colors are available.
Promising review: I bought this to replace the one that I already had. It fits my bed perfectly. It's much thicker than I thought it would be and has definitely made my bed more comfortable. I have recommended this to friends and family. @Elle
BUY NOW
7. Peaceful and undisturbed sleep is guaranteed with these blackout curtains. They will keep the sunshine and bright streetlights out, keeping your bedroom comfortably dark. The curtains are ready to hang, and they feature a lightweight, soft-touch texture and perfectly executed stitches. Thanks to their innovative triple weave technology, the curtains keep the light away and keep your bedroom cool.
The blackout curtains do not necessarily have to be black. The seller offers a wide range of colors to choose from.
Promising review: I wasn't sure about these curtains after reading some of the reviews, do not pay the negative ones any mind. I'm from the states, and I can tell you my old blackout curtains were nowhere near the quality of these curtains! The price is well worth it, and they are beyond a bargain. I paid well more for mine in the states, and the quality was nowhere near these.
I would actually call these luxury curtains. They are lightweight, but you can tell they are well-insulated for your windows. They completely black out the sun/streetlights from outside. I am absolutely delighted with my purchase, and I would 100% buy from this store again. I cannot say enough. @Crystal
BUY NOW
8. This fleece blanket can help you change the look of your bedroom or living room without breaking the bank. You can choose the color that will match the style of your room in the best way. It's fluffy and soft, and it maintains the ideal balance between weight and warmth. Enjoy this blanket all year round!
The blanket features neat stitching that ensures a more robust connection at the seams for improved durability.
Promising review: I bought 2 of these to use on our bed as our usual cover was far too heavy. They work fine. Extra warmth without the weight. Easy to wash and dry.
Highly recommend. In fact, I intend to order 2 more in a couple of minutes. @F. Pawley
BUY NOW
What is your favorite place in the house and why?
Bright Side gets commissions for purchases made through the links in this post.
Bright Side/Shopping/8 Amazon Best-Sellers That'll Turn Your Bedroom Into Your Favorite Place in the House