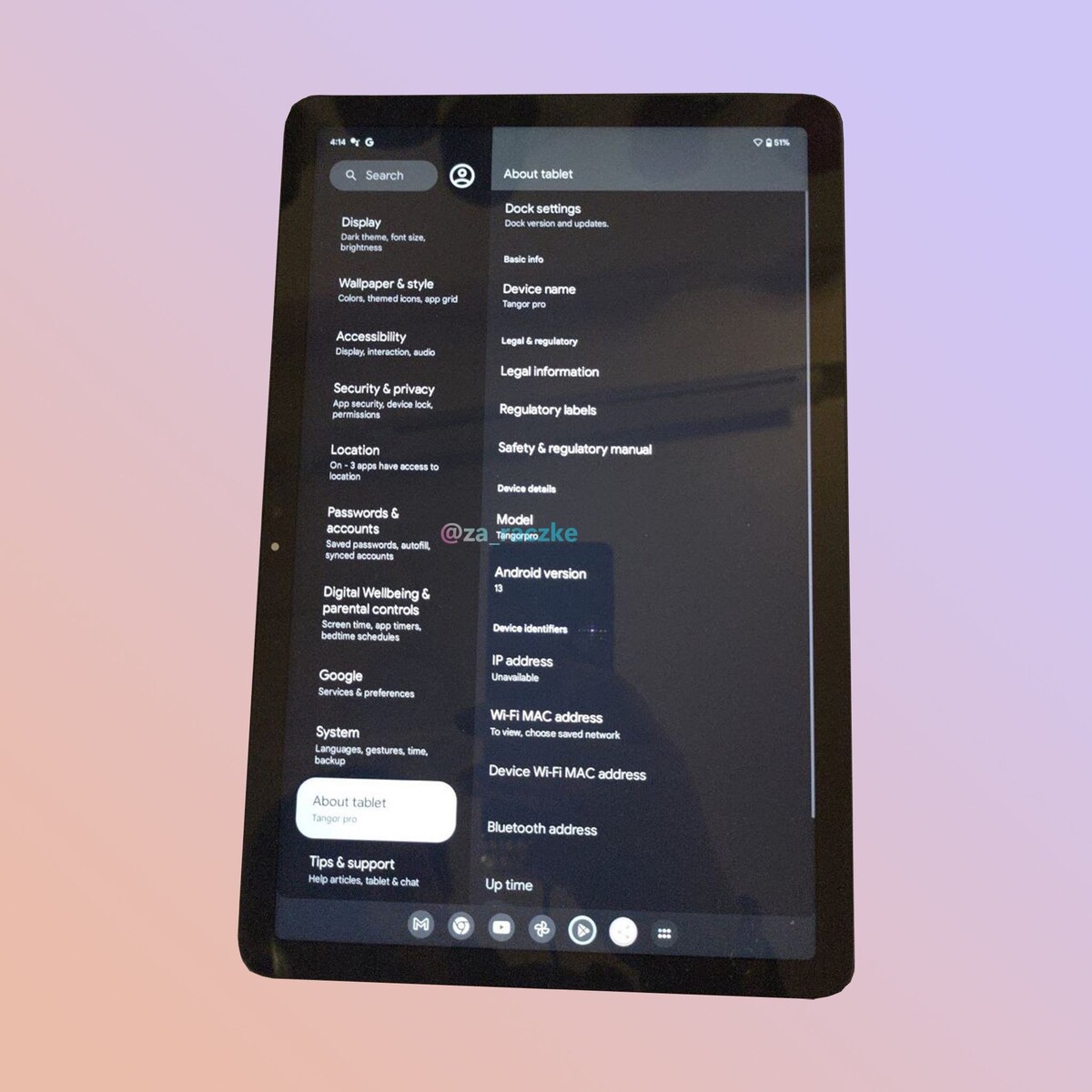 Google may still be a few months away from unveiling the Pixel Tablet. However, developer Kuba Wojciechowski has revealed more specifications and details about the tablet and its accompanying accessories. Reputedly, Google has developed two dock accessories, but there will only be one Pixel Tablet variant available and no Pro model.
Kuba Wojciechowski has shared new details about the Pixel Tablet, a month after a prototype unit leaked on Facebook Marketplace with its proprietary dock. According to the developer, Google has created two docks, which it did not allude to when previewing the Pixel Tablet in October. Although Google confirmed that the tablet's dock would support wireless charging and audio-pass through to built-in speakers, Wojciechowski claims that Google also has a simpler dock in preparation.
Purportedly, Google codenamed the dock previewed in October 'korlan', which is also known internally as 'K6'. Only korlan has a built-in speaker; presumably, the dock supports charging and audio out, rather than just the latter. Additionally, there is 'yuzu' or 'Y4', a charging-only dock. The latter's design has not leaked yet, so there is no guarantee that it looks like 'korlan'.
While Google has developed two docks, Wojciechowski no longer believes that the company plans to release two Pixel Tablet versions. For reference, the developer discovered references to 'tangor' and 'tangorpro' in September, which Wojciechowski took to mean that there would be a Pixel Tablet and a Pixel Tablet Pro of sorts. Allegedly, Google has cancelled 'tangor' in favour of 'tangorpro', with the latter based on the newer Tensor G2 chipset.
Wojciechowski adds that Google will still sell 'tangorpro' as the Pixel Tablet. Moreover, the company has equipped the tablet with 8 GB of Samsung LPDDR5 RAM and 256 GB of Kioxia UFS storage. Furthermore, the Pixel Tablet is believed to land with a 2,560 x 1,600-pixel display. There are indications that the 16:10 display relies on IPS technology though, not OLED like recent Pixel devices. Accordingly, the tablet will feature a side-mounted capacitive fingerprint scanner. A release date has not leaked yet, but Google is expected to present the Pixel Tablet again in the spring at Google I/O 2023.
Purchase the Samsung Galaxy Buds2 Pro on Amazon
Related Articles
Alex Alderson – Senior Tech Writer – 7242 articles published on Notebookcheck since 2018
Prior to writing and translating for Notebookcheck, I worked for various companies including Apple and Neowin. I have a BA in International History and Politics from the University of Leeds, which I have since converted to a Law Degree. Happy to chat on Twitter or Notebookchat.
Alex Alderson, 2023-01-27 (Update: 2023-01-27)